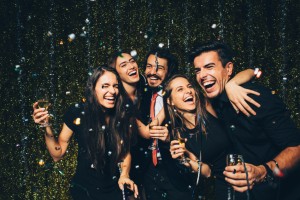 People make a lot of New Year's resolutions. From dramatic weight loss plans to spending more time with family to paying off debts. Whatever your New Year's resolution, remember, a beautiful smile goes with everything. According to studies conducted by the American Academy of Cosmetic Dentistry, people found a beautiful smile to be an indicator of confidence, and were most likely to remember smiles than any other part of a first impression. Researchers at UC Berkley think that smiling more often allows people to live longer, happier lives, and an employment survey showed people with an attractive smile were more likely to get hired or promoted. Maybe 2016 is your year to shine with a picture-perfect smile from the team at Premier Family Dental in Waco.

The Gift of a Beautiful Smile
If you've ever found yourself hiding your teeth while you smile, talk or laugh, you deserve the gift of a beautiful smile in 2016. At Premier Family Dental, we offer a wide variety of cosmetic dentistry our-services to perfect any smile including:
Teeth Whitening – we offer both in-office and at-home professional whitening options
Porcelain Veneers – conceal smile flaws with natural looking, stain resistant porcelain veneers
ClearCorrect – straighten out teeth without the stigma associated with metal braces
Benefits of Regular Dental Checkups
The best way to ensure you and your family have healthy smiles for life is to dedicate the time to visit our office every six months. In addition to at-home care, regular preventive dentistry appointments are the best way to ensure optimal oral health. The many benefits of regular dental checkups and teeth cleanings include:
Save time and money – early diagnosis and treatment saves patients money on complex, restorative dentistry our-services, and most dental insurance plans cover preventive care 100%.
Keep smiles healthy – regular dental checkups and teeth cleanings keep smiles healthy, and help patients avoid potential oral health concerns
Early diagnosis and conservative treatment – early diagnosis allows our team to restore smiles before oral health is irreversibly damaged and provide treatment options that preserve natural dental structures.
Contact Premier Family Dental – Your Cosmetic Dentist in Waco
If a healthy, beautiful smile is your New Year's resolution, call the skilled dentist and team at Premier Family Dental today. We can't wait to help you achieve your healthiest, most beautiful smile in 2016.