Dentures — Waco, TX
Reliable, Natural-Looking Tooth Replacement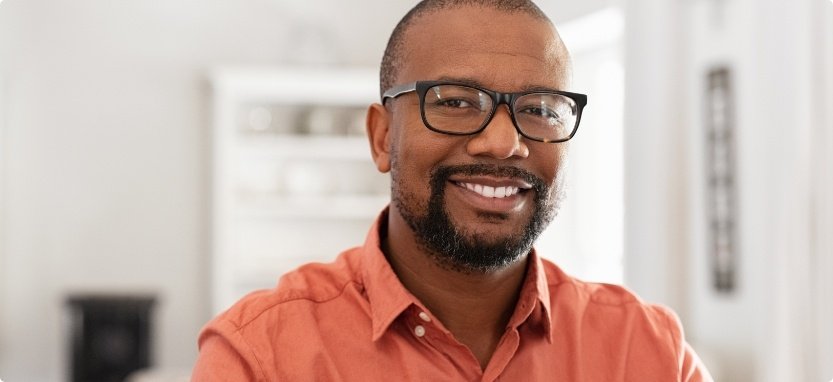 Dentures have been around in some form for thousands of years. Over the centuries, they have evolved to become the comfortable, efficient dental prostheses that they are today. If you have suffered moderate to severe tooth loss, dentures may be the ideal way for you to regain your lost smile, prevent oral health problems, and once again enjoy all of your favorite foods. Dr. Cofer and Dr. McNutt would be happy to help you take advantage of this remarkable treatment, so call us today to schedule a consultation for dentures in Waco here at Premier Family Dental.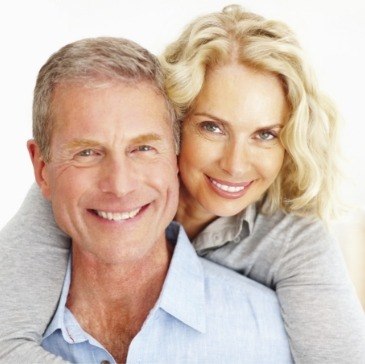 Why Choose Premier Family Dental for Dentures?
In-House Dental Implant Placement
Lifelike, Long-Lasting Dental Materials
Quick, High-Quality Treatment
What Are Dentures?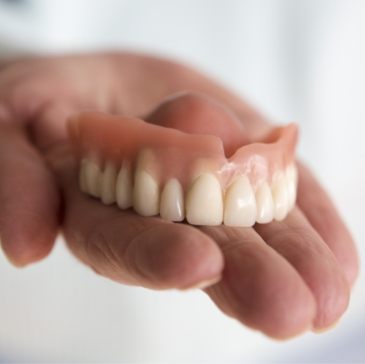 A denture is a prosthesis that consists of artificial teeth (made either of acrylic or porcelain) that are attached to a gum-colored base. Each permanent denture is custom-made, so it fits in perfectly with a patient's mouth and provides them with a comfortable, well-aligned bite. Dentures, in some form or another, are a suitable treatment option for most people who have lost some, most, or all of their teeth.
Who's a Good Candidate for Dentures?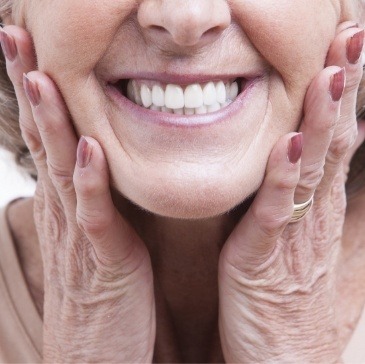 Whether you're missing a few or all of your teeth, pretty much anyone who has suffered from tooth loss can get dentures. During your consultation with us, we can discuss whether or not this is the ideal tooth replacement option for you. Even if you don't make a great candidate right away, this doesn't mean it's out of the question. By restoring the health of your gum tissue and bone structure, dentures may be in your future.
EFFECTS OF MISSING TEETH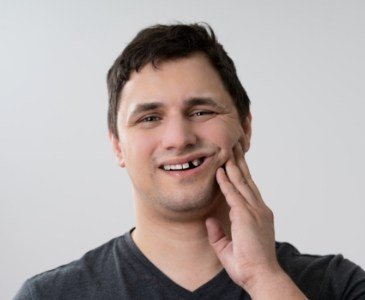 There are all sorts of different ways that tooth loss can occur. According to the American College of Prosthodontists, the common causes of missing teeth include tooth decay, gum disease, and trauma, like a sports injury or accident. Tooth loss can lead to a variety of negative consequences over time. Here are just a few of them:
Facial Sagging: Without teeth, your facial muscles aren't being supported. Your cheeks can appear sunken in, and your lips wrinkled, leaving you looking older than you are.
Difficulty Speaking: When you're missing teeth, it can become difficult to enunciate your words, making it harder for others to understand you.
Trouble Eating: If you can't chew harder foods, you are leaving out foods that contain essential vitamins and nutrients.
Low Self-Esteem: Having gaps in your smile can take a toll on your self-confidence, therefore negatively impacting your social and work life.
WHAT QUALIFIES YOU FOR DENTURES?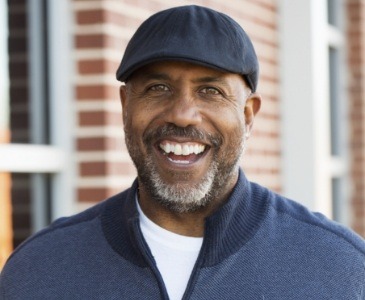 If you've experienced significant tooth loss, lots of damaged/decayed teeth, and sufficient gum tissue and jawbone deterioration, dentures are likely an excellent option for you. Just like any tooth replacement option, wearing dentures requires that you are committed to your oral hygiene routine. You must be committed to caring for your restoration and your oral health.
The number of teeth that you're missing will determine which type of denture is ideal to meet your needs. For the most part, dentures are more affordable than other tooth-replacement methods, making them a good option for patients who are unable to invest lots of money in their smiles.
ALTERNATIVE TOOTH-REPLACEMENT OPTIONS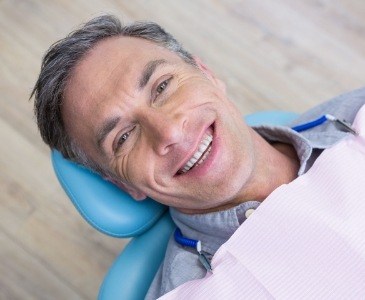 Patients who are not good candidates for dentures can explore other options, like dental bridges or implants:
Dental Bridges: Dental bridges are ideal for patients who are only missing one or a few teeth. Just like the name entails, a dental bridge "bridges" the gap where you are missing your tooth. They require healthy adjacent teeth surrounding the missing tooth to support the bridge.
Dental Implants: A dental implant is a titanium post that is inserted into the jawbone. An attachment tooth (or teeth) is fastened to the end of the implant as a permanent tooth replacement method. For this procedure, patients must have solid bone structures. This option is costlier than traditional dentures.
Learn More About Dental Implants
Your Options for Dentures
FULL DENTURES
A full denture replaces an entire arch of teeth — either all of the top teeth or all of the bottom teeth. A traditional denture is secured in the mouth via natural suction or with the help of a mild adhesive.
PARTIAL DENTURES
A partial denture is designed to replace multiple teeth throughout an arch, even if the missing teeth are not all adjacent to one another. This type of prosthesis may require metal clips or other attachments to help it stay securely in the mouth.
IMPLANT-RETAINED DENTURES
Just like traditional full and partial dentures, an implant-retained denture provides partial or total tooth replacement. However, rather than relying on clips or natural suction to remain in the mouth, it is anchored in place via dental implants. The implants help to fortify the jawbone and enable the prosthesis to be as strong, comfortable, and natural-feeling as possible. This type of denture may either be removable or permanently fixed in place.
Benefits of Dentures
Some of the most outstanding benefits of dentures include:
Once you get used to using them, you will be able to enjoy most (if not all) of your favorite foods.
As long as your dentures fit well, you can expect them to be quite comfortable and secure. Implant-retained dentures feel even better than their traditional counterparts.
Caring for your dentures is easy. As long as you keep them clean, handle them carefully, and visit your dentist for regular checkups, you shouldn't run into any problems with them.
Traditional dentures may last for 5 – 8 years. Implant-retained dentures can last for decades.
Understanding the Cost of Dentures
So, maybe you're thinking of getting your own dentures. It'd be great if you are — such prosthetic teeth could greatly restore your smile! That said, you may want to consider the cost of dentures in Waco first. Every patient is different, so our office can only offer a treatment estimate at your consultation. This visit will then let Drs. Cofer and McNutt learn your denture's true price. Still, we at Premier Family Dental will work to ensure your care is affordable. If you'd like to learn more, just keep reading or call our office for details!
FACTORS THAT AFFECT THE COST OF DENTURES
Various factors influence dentures' cost. Overall, though, the main ones are:
Need (or not) For Prep Work: A denture treatment will cost more if you need extra services beforehand — tooth extraction, gum disease therapy, etc.
Type of Denture Base: While most denture bases are made of acrylic, this plastic comes in different kinds. Some, naturally, are more expensive than others.
Replacement Tooth Material: A denture's teeth tend to be either acrylic or porcelain. The former is cheaper but wears easily. The latter, meanwhile, is pricier but lasts longer.
Remember that cheap dentures usually aren't ideal when assessing the items above. In many cases, the least costly models use subpar acrylic. As such, looking for quality is crucial.
Are Implant Dentures More Expensive?
Put plainly, yes — implant dentures are more expensive than regular ones. However, their features more than justify the high price.
Per their name, implant dentures secure themselves with dental implants. They thus have permanence and stability that other kinds lack. Furthermore, their ability to work like natural teeth restores more of your chewing ability and improves your confidence. As a result, these dentures can let you eat and speak calmly without fear of slippage!
Besides, implant dentures work as an investment that pays off with time. Standard ones need replacing every 5-7 years, while implant ones can last 10-15 years with good care.
Does Dental Insurance Cover Dentures?
Thankfully, many dental plans include dentures in their coverage. A standard one will usually pay 50% of their cost once you've met the deductible.
Of course, there are exceptions. Every policy is unique, after all, so some might not offer the right coverage. Given that fact, talk with your insurance company to confirm your benefits beforehand. If you need help, the Premier Family Dental Team can even assist you with this process!
Other Options For Making Dentures Affordable
Admittedly, not all patients have dental insurance. Even so, though, there are other ways to make dentures affordable. Our own office has options like:
An In-House Membership Plan: In exchange for a low monthly (or yearly) fee, Premier Family Dental gives patients a 5-20% discount on non-preventive services. Said services also include denture treatments!
Flexible Financing: Our practice works with flexible financing plans through CareCredit and Compassionate Finance. Both services would let you pay for dentures in monthly installments rather than a lump sum. That way, you can cover the cost over time.
In the end, the cost of dentures shouldn't worry you too much. You can trust New Premier Dental to guide you, so go ahead and book a visit!
Denture FAQs
Want to know more about dentures in Waco? This popular prosthetic helps restore countless patients' ability to eat, speak, and smile confidently each year. Below are answers to some of the most common questions we hear from patients about dentures. If you have further questions or concerns, don't hesitate to contact our office!
WHAT IS THE AVERAGE AGE FOR DENTURES?
In general, tooth loss is an issue that is far more common among older patients. Approximately 66% of adults between the ages of 40 and 64 are missing at least one tooth, compared to only 33% of adults aged 20-39, according to the National Center for Health Statistics. Thus, you are more likely to need partial dentures or full dentures over the age of 40. However, while the need for false teeth generally increase as you get older, people of all ages can potentially be candidates for dentures.
HOW LONG WILL YOU HAVE TO WAIT TO GET DENTURES AFTER YOUR TEETH ARE PULLED?
You can likely expect to wait between six to eight weeks after your teeth are pulled before you can get dentures. This waiting period gives the gums a chance to heal and will help ensure that your dentures fit properly. The exact amount of time depends on the type of denture in question. For example, if you are getting implant dentures, you will have to wait between four to six months for the implant to fully integrate with the surrounding bone. Same-day dentures, on the other hand, can be placed on the same day as an extraction. While this type of restoration will allow you to eat and speak right away, your denture dentist in Waco won't have a chance to preview the fit first. This may become an issue later down the line if the shape of the underlying bone and gums change as your mouth heals.
WHAT CAN'T YOU EAT WITH DENTURES?
You can continue to eat many of your favorite foods with high-quality dentures. However, you will likely have to make some adjustments to your diet. For example, you should avoid sticky foods like peanut butter and gummy candies that can pull your dentures out of place. In addition, nuts, popcorn, apples, carrot sticks, corn on the cob, and other hard foods can damage or dislodge dentures. It's okay to eat these types of foods on occasion, but they should be avoided for the most part. Finally, opt for softer meats like boiled chicken instead of steak or pork chops. Tough meats require an excessive amount of chewing, which can put a lot of stress on both your dentures and your gums.
IS IT HARD TO TALK WITH DENTURES?
Teeth play an important role in speech. When you first get dentures in Waco, it will take time to get used to speaking with them because you're so used to speaking with your natural teeth. Every person adjusts at their own pace, but generally speaking, the more you practice, the faster the adjustment process goes. Reading your favorite magazine, newspaper, or book out loud and repeating difficult-to-pronounce words is a good exercise. You can also try speaking slowly at first. Fast speech may come out muffled if you're not used to talking with dentures. If you notice your dentures shifting while you speak, try biting down and swallowing before you begin to talk so that your false teeth are in the proper position. If you need extra stability, apply a bit of denture adhesive to help keep your new teeth in place.