Dental Implants - Waco, TX
Rebuild Your Smile With Dental Implants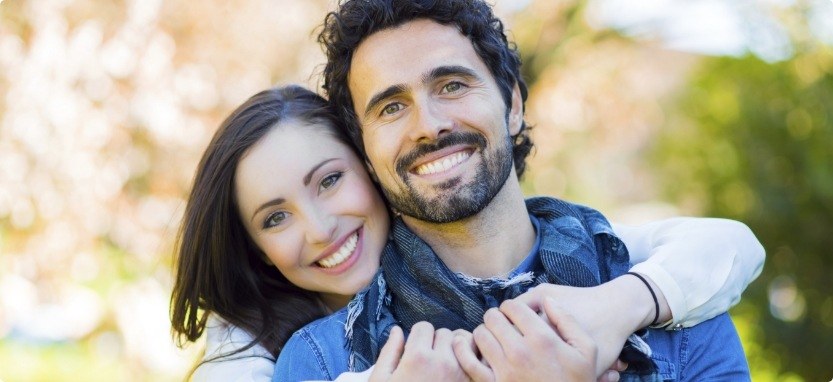 Do you have missing teeth? Do they make it difficult for you to speak clearly or impossible to eat all of your favorite foods? Do they make you shy away from meeting people or cause you to avoid social functions altogether? If so, each of these problems and more can be completely taken care of with dental implants in Central Texas. They are the most permanent and aesthetically pleasing tooth replacement option currently available today, and you can get them right here in Waco with Dr. Rick Cofer's help at Premier Family Dental.
Why Choose Premier Family Dental for Dental Implants?
Dental Implants Placed & Restored In-House
Dentist Is a Fellow of the International Congress of Oral Implantologists
State-of-the-Art CT / Cone Beam Scanner for Precise Implant Placement
What Are Dental Implants?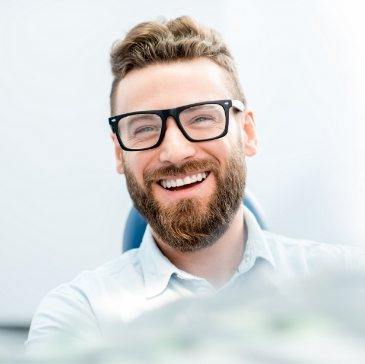 Dental implants are relatively simple in structure, consisting of three basic parts: a titanium root, an abutment, and a custom restoration. This titanium root is what makes dental implants so special – they replace the entire tooth structure, unlike dentures and bridges (which only replace the visible part of the tooth). The abutment is a small, screw-like device that attaches the restoration to the titanium root. Your restoration can be a dental crown, bridge, or even a full denture. Dental implants are so versatile that they can be used to replace a single tooth, multiple teeth, or even an entire mouthful of teeth.
How Dental Implants Work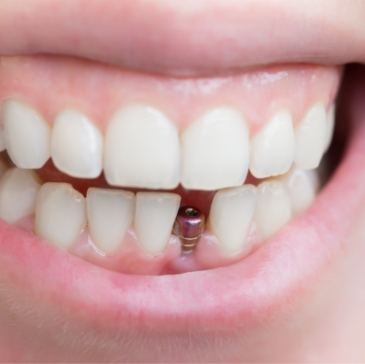 No matter how many teeth you are missing, dental implants could be the right choice for you. It's time to schedule a consultation with Dr. Cofer! During this appointment, you'll both discuss what you would like for your smile, and he'll determine if dental implants are the right solution for you. If they are, the procedure involves three basic phases:
Placement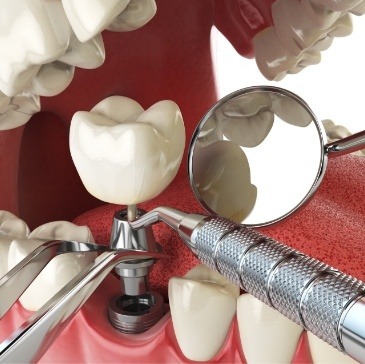 This is a minor surgical procedure where Dr. Cofer will make a small incision in your gums and position the implant post(s) so that it can provide maximum hold and stability. He'll use a variety of scans and X-rays to make sure it is in the perfect place.
Healing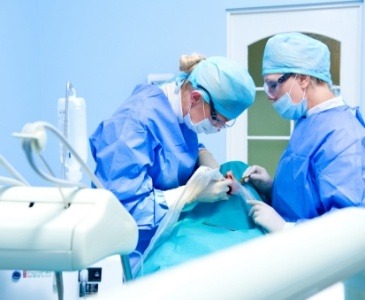 You'll then be given 4-6 months for your gums and jaw to heal. Any pain or soreness from the procedure usually lasts about a week, and it should be easily managed with over-the-counter medication. This period is mostly to allow time for the posts to naturally bond to your jawbone through a process called osseointegration. This is another reason why dental implants are so reliable and durable –the posts connect to your jaw just like your natural teeth. During this time, you'll have a temporary restoration so you can always smile with confidence during the process.
Restoration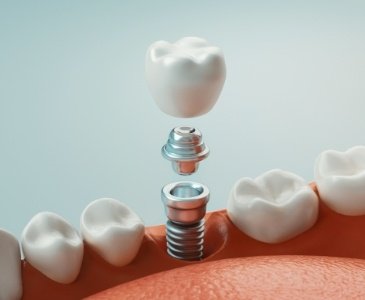 You'll return to Premier Family Dental when you're fully healed so that Dr. Cofer can place your abutments, which is what will connect your restoration directly to the implants. After you have healed, your final restoration will be placed, and your new smile will be ready for the world!
Benefits of Dental Implants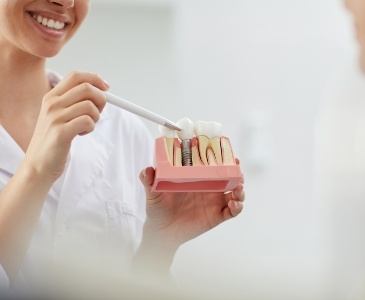 As the only solution to tooth loss that replicates the entire structure of a missing tooth, we often recommend dental implants over traditional tooth replacement options like bridges or dentures. Some of the advantages that implants offer include:
You can eat whatever you want without worrying that your teeth will slip out of place.
Your restoration will be custom-made to blend in with the rest of your smile.
You can brush and floss your implant-supported prosthetic as if it were a natural tooth.
You can expect your implants to last 30+ years with minimal maintenance.
Who Dental Implants Can Help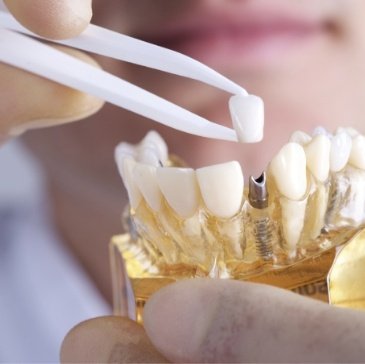 No matter how many teeth you've lost, you may still be a candidate for dental implants:
Missing One Tooth
An all-porcelain crown will be used to replace a single tooth. Dental porcelain is just as strong and durable as natural enamel, and it can be specially shaded to seamlessly match the rest of your smile.
Missing Multiple Teeth
Dental implants can also be used to support a bridge. Once an all-porcelain crown has been placed, it can be bonded to multiple prosthetic teeth that will simply sit on top of the gums. This is much faster than replacing each individual tooth with implants, and it doesn't require your other teeth to be filed down to hold crowns (which is required for traditional bridges).
Missing All Teeth
Dental implants can also support a set of full dentures for the upper and/or lower jaw. These dentures have many benefits over traditional ones:
Since they are held in place with dental implants, they will never slip, pop, or click.
They retain their fit for much longer because they support the jaw and keep it healthy and full.
They provide a much stronger bite force than traditional dentures, which means patients can enjoy a wider variety of healthy foods. Many patients can't chew essential proteins and vegetables with normal dentures, and they often become malnourished. This is why people with traditional full dentures tend to live 10 years LESS than the average life expectancy. Thankfully, implant-retained dentures can correct all of these problems and last an entire, healthy lifetime.
Learn More about Teeth-in-a-Day page
Dental Implant FAQs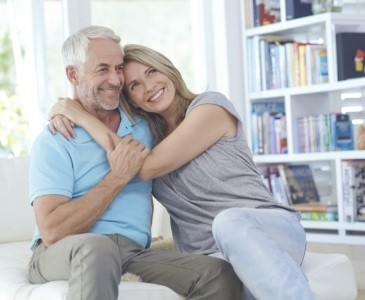 Are your missing teeth making it hard for you to enjoy everyday activities like smiling, talking, and eating? If so, chances are you could benefit from dental implants. Before you begin the procedure, we'll be sure to answer any questions you may have. In the meantime, we invite you to read through this list of the answers to some frequently asked questions about dental implants.
Why Are Dental Implants Better Than Traditional Bridges?
Without the teeth roots to support them, the jaw and gums tend to weaken and recede. While a traditional bridge might look great, it does very little to stop this process, and it often can't prevent additional tooth loss as well! Dental implants have all of the aesthetic benefits of traditional restorations with the added advantage of being a clinical solution because they restore this essential support. When it comes to health, looks, and durability, dental implants are by far the best way to replace missing teeth.
How Long Does It Take to Get Dental Implants?
This can vary greatly from person to person. Many people can complete the entire process in less than 6 months, while more complicated cases can often take over a year. Dr. Cofer will be able to map out your particular treatment plan at your first appointment so you can get a better idea of your particular timeline.
How Long Does a Dental Implant Last?
Dental implants can easily last for 30 years or more with the proper maintenance. They just need to be taken care of like your natural teeth. With daily brushing, flossing, and regular checkups and cleanings at Premier Family Dental, your dental implants should look and feel like new for many years to come.
How Does the Cost of Dental Implants Compare to Other Options?
Dental implants might seem to be more expensive than other restorative procedures, but they are actually extremely cost-effective over the long term. Traditional bridges and dentures typically have to be replaced every 5 to 10 years, while dental implants can easily last over 30. This means that for many, dental implants are a one-time cost with decades of consistent benefits. Also, many insurance plans provide excellent coverage for dental implants, and we also accept payment plans through CareCredit and Compassionate Finance if you need low-to-no interest financing. All in all, when it comes to cost versus outcome, dental implants are one of the best deals in not just dentistry, but all of healthcare.