Cosmetic Dentist – Waco, TX
Beautiful Smile Transformations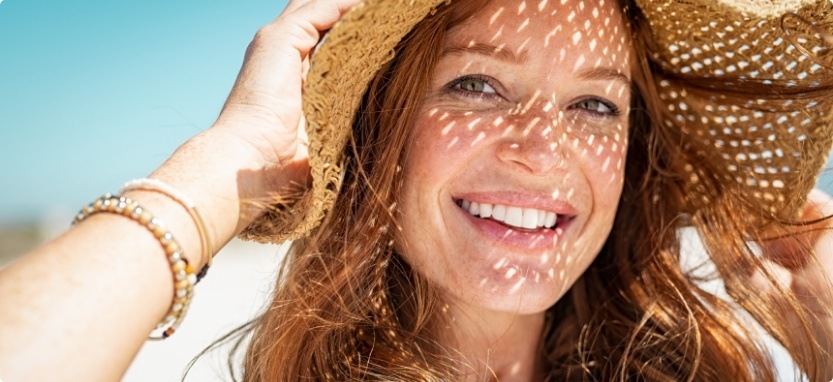 If you're ready to give your teeth a makeover, our team at Premier Family Dental would be happy to help. Dr. Cofer and Dr. McNutt offer several cosmetic dentistry options that can refresh your look and give you back the self-confidence you deserve. During your initial consultation, we can discuss your personal goals in more detail and devise a plan of action that leaves you with truly dazzling results. Contact our dental office today to schedule a consultation for cosmetic dentistry in Waco!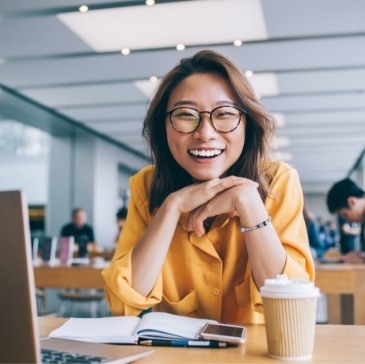 Why Choose Premier Family Dental for Cosmetic Dentistry?
Multiple Teeth Whitening Options
Expertly Designed Invisalign Aligners
Long-Lasting, Natural-Looking Dental Veneers
Veneers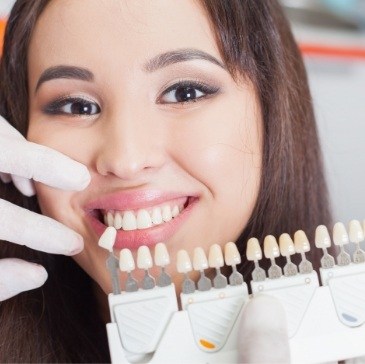 If you're feeling overwhelmed by the number of aesthetic flaws your smile is facing, custom-made dental veneers can create a comprehensive transformation all at once! These wafer-thin restorations are designed to cover just the front surfaces of certain teeth, hiding stains, chips, cracks, gaps, and more behind a new, seamless look that still retains its full function.
Metal-Free Dental Restorations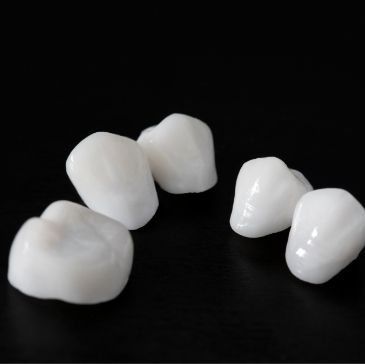 When you need a new dental crown, bridge, inlay, or onlay, our practice is happy to offer the perfect blend of reliable durability and aesthetic quality. We offer all-ceramic materials that are free of metals and seamlessly colored like your natural enamel so they can blend right in once placed. We enjoy helping our patients maintain their beautiful and confident smiles, even after dental injuries and serious decay!
Learn More About Metal-Free Dental Restorations
Teeth Whitening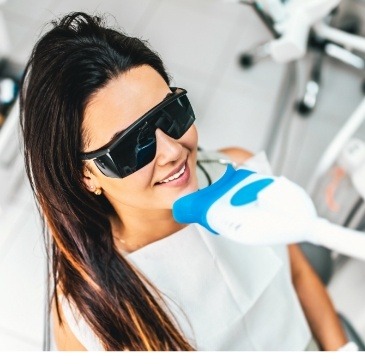 If your smile has lost some of its shine because of coffee, wine, certain medications, or simply old age, teeth whitening treatment here in Waco can help you regain a truly dazzling appearance. Dr. Cofer and Dr. McNutt offer both GLO Science teeth whitening here in the office (perfect for fast, dramatic results) and professional-strength take-home kits (a good choice for added flexibility).
Invisalign Clear Aligners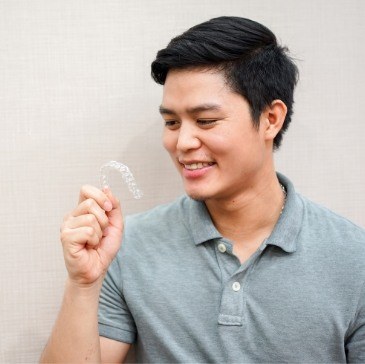 When you're interested in achieving straighter teeth, metal wires and brackets aren't necessarily required. At our dental practice, patients can enjoy a subtle and satisfying orthodontic experience with Invisalign. This modern technology relies on clear aligners that are each designed to represent a different stage of your smile as teeth shift toward their desired position.
Understanding the Cost of Cosmetic Dentistry
We often hear from patients who are worried about the cost of cosmetic dentistry in Waco because they know their insurance may not cover the treatment they desire. Fortunately, we offer various payment and financing options to help patients afford the beautiful smiles of their dreams. Our team will be happy to help you navigate which cosmetic services fit your goals and budget. Our experienced dentists can provide a wide range of cosmetic treatments at different price points, but achieving the confidence you deserve is priceless.
Which Cosmetic Dental Service Is Right For Me?
The answer to this question will depend on your unique situation. In general, cosmetic dentistry patients are usually trying to achieve whiter, straighter, and/or differently shaped or sized teeth. Our dentists can help you explore various treatment options, such as:
Teeth Whitening – Professional teeth whitening can help you regain a truly dazzling appearance. Usually a mid-range option in terms of cost, teeth whitening can be performed in-office for fast results or with professional-strength take-home kits for a more gradual transformation.
Metal-Free Restorations – If you have damaged or weakened teeth, tooth-colored fillings offer the perfect blend of reliable durability and aesthetic quality. All-ceramic materials blend in seamlessly with natural enamel.
Veneers – Veneers can transform multiple aspects of a person's smile all at once. While veneers typically cost more than bonding and metal-free restorations, they can last for over a decade with proper care.
Invisalign – Clear braces can make a big difference if you have crooked, crowded, or otherwise misaligned teeth. Straightening your smile with Invisalign does involve a significant investment in terms of both time and cost.
Cosmetic Dentistry Can Be An Investment Worth Making
Cosmetic dentistry may feel like a big financial commitment, but it's an investment that will pay dividends for many years to come! If you currently feel self-conscious about your smile, you will likely receive a big confidence boost after addressing the chips, cracks, or stains in your teeth. Confident people often attract more friends and acquaintances. Your new and improved smile could lead to better relationships, an improved social life, and even new professional opportunities.
How To Make Cosmetic Dentistry Affordable
Dental insurance usually does not cover purely cosmetic procedures. However, there are still plenty of options available to transform your smile in an affordable way. For example, qualified patients can access flexible dental financing through CareCredit or Compassionate Finance. Both options can break down the cost of cosmetic dentistry into manageable monthly payments with little to NO interest attached.
In addition, we also offer an in-house dental membership plan. For one low annual (or monthly) fee, you get free preventive dental care for a year plus 5-20% off other procedures completed at our practice. Best of all, you won't have to deal with the hassles that often come with dental insurance, like claim forms, deductibles, and insurance agents.
Our team will work with you to achieve your smile goals without straining your budget. Schedule a consultation to learn more about the cost of cosmetic dentistry in Waco and different payment options.
Cosmetic Dentistry FAQ's
You've probably heard a lot lately about how cosmetic dentistry can improve your smile, as this form of dental care has become quite popular. Still, it's understandable if you have some questions that need to be answered. For starters, you may be wondering what exactly cosmetic dentistry is.
Simply, it's the form of dental care that addresses such concerns as the color, shape, size, proportion and alignment of your teeth. It's ultimate goal, though, is to leave you feeling better about yourself so you can have positive interactions with other people. Up ahead, we answer some common questions. Then, once you contact our Waco office, we'll help you achieve the smile of your dreams!
WHAT ARE SOME COMMON COSMETIC DENTISTRY PROCEDURES?
At Premier Family Dental, your cosmetic dentist will take the time to listen to your concerns and to carefully assess the current condition of your smile. Depending on what your specific needs are, here is what we offer:
Veneers – thin ceramic shells that fit over the front-facing teeth
Metal-Free Restorations – tooth-colored alternative to metal restorations
Teeth Whitening – a way to leave stained or dull-colored teeth several shades lighter
Invisalign Clear Aligners – clear plastic aligners that gradually straighten gapped, crowded or misaligned teeth
When you visit our office, we'll help you figure out which route is best to take.
DOES MY DENTAL INSURANCE COVER COSMETIC DENTISTRY?
In most cases, dental insurance companies won't pay for cosmetic dentistry, because it's not considered to be essential for your oral health. However, there are some instances where there may be partial coverage available. An example is the placement of a dental crown, which is a restoration that straddles the line between restorative and cosmetic care. Depending on the structure of your policy, up to 80% of the cost may be covered by your dental insurance.
If you're more cost-sensitive, we offer flexible financing as well. This provides a way to receive the care you desire with the advantage of being able to make monthly payments at little to NO interest.
CAN TEENAGERS BENEFIT FROM COSMETIC DENTISTRY?
There are certainly cosmetic dental procedures available to upgrade your teenager's smile. Some of the options are clear aligners, cosmetic bonding and teeth whitening. To find out which method is best suited for your son or daughter, give us a buzz to schedule a visit.
HOW LONG WILL THE PROCESS TAKE?
Everyone is unique, which means the protocol for each patient can vary greatly. Furthermore, some forms of treatment can be completed in one visit, while other methods of cosmetic dentistry may take months to complete.
The best way to get an accurate estimate of how long it will take to see the results you're looking for is to visit your cosmetic dentist in Waco.
IS COSMETIC DENTISTRY RIGHT FOR ME?
When you visit our office, our dentists will assess the condition of your teeth and gums to make sure there's nothing standing in the way of your dream smile. Then, once you're given the "green light" to proceed, the next stop is smile perfection!
To get the process started of boosting your confidence with cosmetic dentistry, contact your dentist in Waco today to request a visit!