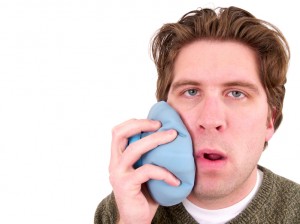 Toothaches have been the topic of much debate for thousands of years. Ancient civilizations believed worms living in teeth caused toothaches, ancient Egyptians recommended holding a dead mouse on aching teeth, their Chinese contemporaries wrapped parchment around teeth with prayers for relief written on them, and Germans in the middle ages recommended kissing a donkey for toothache relief. On February 9th, the feast of St. Apollonia is celebrated. This is also known as toothache day since St. Apollonia was severely beaten by and lost all of her teeth before succumbing to her wounds, and is the patroness of dentists and dental pain. Luckily, modern dentistry provides better solutions for toothaches than kissing livestock or praying to saints. One of the most severe toothaches patients will experience is caused by root canal infection. Root canal infection is actually infection of the inner, pulp, layer of the tooth not necessarily confined to the root canal. All of the nerves in teeth are found in the pulp, so it's no surprise that these infections are painful. At Premier Family Dental, we offer painless root canal therapy to restore patients' smiles.

Causes and Symptoms of Root Canal Infection
Infection of the pulp layer of teeth is referred to as a root canal infection because it is most likely to originate from the root canal since the layer of enamel protecting the root structure is thinnest allowing easy access for decay-causing bacteria. Root canal infection occurs when decay or damage allows bacteria access to the inner pulp layer which then becomes infected. Some warning signs of root canal infection include:
Tooth pain
Sensitivity to heat and cold
Swelling, inflammation, or sores on the gums
Teeth that become dark or have dark spots
Root Canal Therapy
In the US and Canada, more than 41,000 root canals are performed every day! While this treatment has gotten a bad reputation for being painful, root canal therapy actually relieves pain. In order to restore the affected tooth to full health, a root canal procedure removes the infected dental pulp. Along with the pulp, the nerve is removed relieving pain. Once the pulp is removed, the tooth is refilled with a biocompatible substance, sealed, and the entire tooth is reinforced with a dental crown for added support. Within two days of root canal therapy, patients are restored to full health. If sensitivity or pain persists for five or more days following a root canal, patients should contact their dentist.
Contact your Waco Dentist to Find Out More
If you're experiencing tooth pain or sensitivity, don't hesitate to contact Premier Family Dental. Our team is here to help patients with root canal infection relieve their pain.