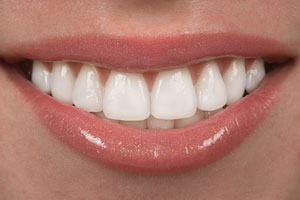 Are you dissatisfied with the appearance of your smile? Are your teeth chipped, crooked, yellowed, or have gaps between them? Porcelain veneers from Premier Family Dental could be what your smile has been waiting for.
Porcelain veneers are thin pieces of porcelain that cover your natural teeth. Porcelain reflects light similarly to your natural teeth, and is stain-resistant. By covering over your natural teeth, we can give you a fresh look without extensive dental work.
If your teeth are yellowed and discolored and won't respond to teeth whitening treatments, this can help. Also, it's a great way to repair cracks and chips in your teeth. If you don't like the shape of your teeth, or if they're crooked or have small gaps, porcelain veneers are a great alternative to braces.
Dr. Cofer will analyze your teeth and see if porcelain veneers are a good fit for your smile and your dental needs. He'll prepare your teeth and take impressions that will be sent to a lab and used to manufacture your custom veneers. When your veneers are ready, you'll come back in and have them placed. You'll have a beautiful smile in as few as two dental appointments.
Porcelain veneers are a great way to achieve the beautiful smile you deserve. If you're interested in learning more or setting up your consultation, call us today! Our caring staff would love to help you.
Premier Family Dental provides quality dental care from our Waco dental office because we truly believe in the power of a beautiful smile. We serve patients from Robinson, Lorena and the Central Texas area. Call us today to schedule your appointment!