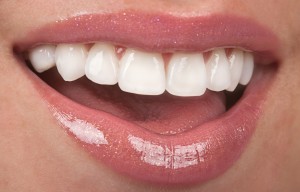 Whether you spilled ketchup on your favorite shirt or chipped your everyday coffee mug, things have a natural way of following the process of aging. The same goes for your teeth. A nick here, a stain there, your teeth are vulnerable to life's knocks. The silver lining is the fact that Premier Family Dental is able to improve your smile in no time with porcelain veneers! Taking as little as two visits, Dr. Rick Cofer, Jr. is able to make your smile like new.
The process of getting veneers starts with our team asking questions of how you'd like your smile to look, taking impressions of your mouth, and sending your impressions to a lab to have your personalized veneers made. Once everything is in place to have your new teeth applied, your prepared natural tooth is surrounded by a thin layer of porcelain and made permanent with dental resin cement. The end result is the gorgeous, flawless smile you have always wanted.
Porcelain veneers can be used to treat gapped, misaligned, and weathered teeth. The wonderful thing about porcelain veneers is the fact that they're stain resistant and can last for many years. Porcelain veneers also offer a more natural look to your cosmetic change. A lot of people do not like for it to be obvious they had work done, and this is a wonderful way of making sure the new you has an organic appearance. Bring your confidence back by making an appointment at Premier Family Dental, and bring in the New Year with a new you!
Premier Family Dental provides quality dental care from our Waco dental office because we truly believe in the power of a beautiful smile. We serve patients from Robinson, Lorena and the Central Texas area. Call us today to schedule your appointment.