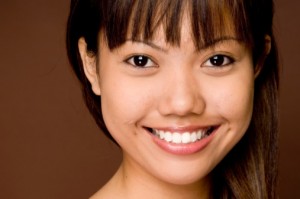 When you look in the mirror or catch your smile in a photograph, do you see the smile you really want or is it the one nature gave you? You know, you don't necessarily have to settle for what Mother Nature dishes out. You can make a change, and one of the most convenient and striking changes happen when you choose porcelain veneers from Dr. Rick Cofer at Premier Family Dental in Waco, TX. With porcelain veneers, Dr. Cofer and his staff have improved the smiles of many in Waco, and he can do the same for you.
The smile on your face that you see every day can become marred by a number of cosmetic imperfections:
Chipped or slightly cracked teeth
Teeth that have gaps in between them
Stained or discolored teeth that have not responded to teeth whitening
Teeth that are somewhat crooked
Misshaped teeth
All of these smile downers can be addressed with porcelain veneers.
Porcelain Veneers Waco Loves
Porcelain veneers are ultra-thin layers of dental porcelain that are adhesively bonded to the facial side of teeth in your smile zone. Essentially, they provide a complete smile makeover in usually only two office visits.
At the first visit, Dr. Cofer—the cosmetic dentist Waco trusts most—will prepare the teeth that will have veneers. He'll remove a minimal amount of enamel, which will strengthen the adhesion of your new veneers to your teeth and make sure your veneers lie flush with your other teeth. Then, we'll take impressions of your prepared teeth and discuss your smile goals. The impressions, along with Dr. Cofer's exacting instructions, are sent to a cosmetic dental lab, which will fabricate your custom veneers in a few weeks. You'll return to Premier Family Dental to have your new smile put in place, complements of porcelain veneers.
Call Our Office Today
For a consultation about porcelain veneers or any other cosmetic dentistry service, call Premier Family Dental. Our Waco, TX, dental office is proud to serve patients from throughout the surrounding areas, including Robinson, Lorena, and beyond.