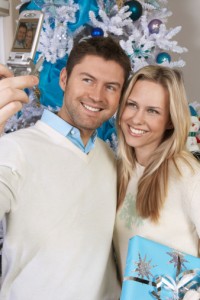 Are you dreading the many holiday "pics" you'll be asked to take this year? If you're camera shy because of stained or discolored teeth, it's time take care of the problem once and for all with a holiday teeth whitening solution from Premier Family Dental. Dr. Cofer is an experienced cosmetic dentist that delivers fast and reliable treatment. Make your appointment to see Dr. Cofer at Premier Family Dental today for the holiday teeth whitening you need.  Premier Family Dental restores smiles daily throughout Waco, TX, Robinson, Lorena, and the surrounding communities.
What Are Your Holiday Teeth Whitening Choices?
You have three basic choices for whitening your teeth. You could switch to a teeth whitening toothpaste. However, this is probably the least effective method. Whitening toothpastes don't actually contain the beaching agents necessary to correct stains and discoloration. They contain mild abrasives that can only polish away shallow surface stains. Teeth whitening toothpaste is best used as a way to maintain your results after you have chosen a more effective method. Your next choice may be to try an over-the-counter teeth whitening product. These products may come in the form of whitening strips, gels, rinses, or trays. Though more powerful than teeth whitening toothpastes, it can take several weeks of daily use before these products begin to show any significant results. In addition, the prolonged exposure to bleaching agents could be irritating if you have sensitive teeth and gums. Your best bet is to choose professional teeth whitening from a qualified cosmetic dentist. Dr. Cofer offers professional take-home teeth whitening with custom made whitening trays that you can use at your leisure. Professional whitening can whiten your teeth by several shades after just a few days. Dr. Cofer can also ensure that your gums are protected from irritation and infection.
Holiday Teeth Whitening Appointments in Waco, TX
Don't miss out on all those special holiday moments because you have to hide a discolored smile. Make a holiday teeth whitening appointment with Dr. Cofer today. Dr. Cofer and the attentive team at Premier Family Dental can help you achieve the teeth whitening results you deserve.  Premier Family Dental proudly serves families throughout Waco, TX, Robinson, Lorena, and nearby areas.