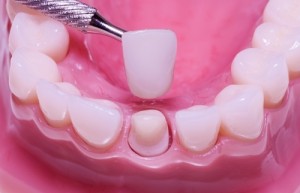 Despite our best efforts, our teeth are subject to damage and decay. Fillings are a great solution to these dental issues for many cases. If the damage or decay is more extensive, then a crown from Premier Family Dental could be a better solution.
Crowns are like a cap for your teeth. They can be made of several materials, with porcelain being a popular choice because it more closely resembles natural teeth. They cover over a damaged or decayed tooth to help protect it from damage and to restore the strength and health of the tooth.
If you have any of the following dental issues or concerns, you should consider getting a crown:
A broken tooth
Extensive decay
Fractured filling
You've had root canal therapy
You want to improve the appearance of your teeth
Your crown will be custom made so it will fit well and resemble your natural teeth. It will take about two visits for the procedure to be complete because of the time required to make your crown.
If you have a damaged or decayed tooth, a crown could be a great way to restore the health of your tooth. Call us today to learn more and set up a consultation with Dr. Cofer.
Premier Family Dental provides quality dental care from our Waco dental office because we truly believe in the power of a beautiful smile. We serve patients from Robinson, Lorena and the Central Texas area. Call us today to schedule your appointment!