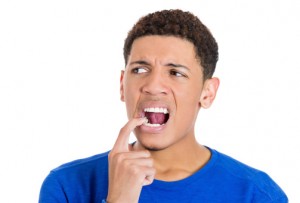 Ice cream, popsicles, watermelon, lemonade and iced tea. These cool treats are a summertime tradition for most people. But for those with sensitive teeth, these tasty foods and beverages might not be worth the pain—and we mean that literally. Tooth sensitivity can happen when the dentin layer of a tooth is exposed. This layer is usually well covered by enamel, a tooth's hard outer lining. However, if the enamel becomes eroded, then there can be tooth sensitivity. Waco family dentist Dr. Cofer has ways to treat sensitive teeth, so you can eat whatever you like this summer without worrying about the pain.
Enamel erosion is only one of many reasons why you may have sensitive teeth. An untreated cavity can cause sensitivity. Likewise, a crack in your tooth, a fracture or root erosion can all expose the dentin layer of a tooth.
Dentin is the layer of tooth that is just beneath the enamel. It is filled with thousands of microscopic tubules that are connected to the nerve at center of your tooth. If these tubules are exposed to hot or cold temperatures, or highly acidic or sweetened foods and beverages, then the sensation is transferred to the nerve and you feel pain.
Waco Family Dentist Offers Tips to Avoid Sensitivity
Fortunately, there are things you can do at home and treatments that your dentist in Waco has to help you avoid or treat tooth sensitivity. First, check your toothbrush. If you happen to be using a brush with hard bristles, switch to a soft toothbrush. Hard bristles can wear away tooth enamel, making sensitivity more likely.
Second, use toothpaste made for people with sensitive teeth. There are several options available over-the-counter or on the shelf at your neighborhood pharmacy or supermarket. Try a few and find the one that works best for you. In addition to toothpaste, you can add a mouth rinse to your daily oral hygiene regimen.
In-Office Tooth Sensitivity Treatments
If these steps don't help, then there are treatments available from the dentist Lorena, TX, trusts. The American Dental Association recommends:
A customized mouthguard if tooth sensitivity is caused by nightly teeth grinding and clenching
A fluoride treatment to help strengthen and remineralize worn away tooth enamel
Cosmetic bonding, crowns, inlays and onlays can be put in place to protect teeth from sensitivity-causing foods and beverages
Call Our Office Today
Don't miss out on the special treats of summer. Contact Premier Family Dental in Waco, TX, to schedule a consultation with Dr. Cofer and find out how to solve tooth sensitivity.