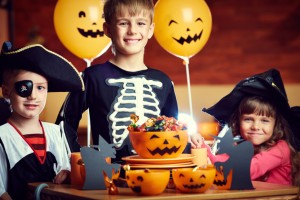 Trick or treat! Yep, it's that time of year again when your favorite ghosts, goblins and super heroes will be bringing home sweet loot. And while Dr. Rick Cofer and the team at Premier Family Dental in Waco, TX, don't want to spoil the fun, we also don't want cavities to spoil your children's smiles. As the children's dentist Waco residents rely on, Dr. Cofer wants you to know that there are things you can do to help your children avoid tooth decay even while they enjoy the collection of candy and other goodies they receive on Halloween.

First of all, brushing and flossing are a must after they've eaten some of their Halloween candy. In fact, before the first piece of candy drops into their treat bucket, put a new soft toothbrush, fluoride toothpaste and a spool of floss in there first. That way when they come home and sort through their candy, a reminder to brush and floss will be there, too. Be sure to show young children how to properly brush their teeth by placing the toothbrush at a 45 degree angle to the gum line and brushing in a small circular motion. Very young children will need you to either brush their teeth for them or to supervise carefully.
And speaking of sorting through candy… ration, ration, ration the candy over time, so their teeth (and tummies) are not assaulted by sugar all at one sitting. If they've received some of the worst kinds of candy when it comes to causing cavities—large suckers or lollipops, taffy, caramels, jaw breakers or toffee—consider offering them a trade, such as a small toy, sticker, whistle and so on. And if you're handing out candy this Halloween, then consider filling buckets with these treats instead, because there's no chance they'll cause a cavity!
Eat Healthy Says the Dentist 76712 Trusts
One of the best tricks you can do is serve your children a healthy and filling meal before they go out to gather their Halloween candy. If they've eaten well before trick or treating, then they are less likely to fill up on candy when they get home. Another trick you can use is to make sure your children's candy buckets are small. When the bucket is full, the night is over and it's time to come home. And when they do eat candy, try to make sure it's eaten in conjunction with a meal rather than alone as a snack.
Finally, use Halloween as an opportunity to teach your children about dental health and how they can prevent cavities. With proper care, Halloween candy can be enjoyed without the threat of tooth decay.
Call Our Office Today
To learn more about how you can prevent cavities this Halloween season or any time of year, schedule an appointment with Dr. Cofer and the staff at Premier Family Dental in Waco, TX. We also serve families from Lorena, Robinson and the surrounding areas.