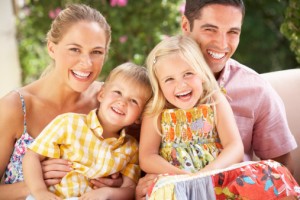 Choosing a family dental practice in Waco may seem like searching for a needle in a haystack, but selecting the right practice for your specific dental needs may be easier than you think. Before diving in head first, review our tips for finding the right dental practice to meet the needs of your family for a lifetime of healthy, happy smiles.

Key Elements of a Great Family Dental Practice
Before choosing a dental practice in Waco, ask friends, family, and medical practitioners for recommendations to narrow the list. Then review these key elements:
Know your needs – you can't make the right choice for your oral health without an understanding of your oral health care needs. Patients who struggle with periodontal disease should make sure they choose a practice that offers preventive screenings and treatment for periodontal disease.
Dental education and training – dentists who are dedicated to continuing education following their doctoral studies are often better equipped to offer a wide variety of advanced dentistry techniques and technologies so patients receive the most comfortable, effective care.
Practice convenience – while choosing a practice entirely based on convenience factors is inadvisable, make sure the practice is located near you, offers hours that meet your needs, and is able to provide a variety of treatment options for the whole family.
Accessibility and amenities – accessibility is essential for all patients finding a practice where patients are able to comfortably access the dental care they need is of the utmost importance, and the layout, design, and amenities provided by specific practices all play a roll.
The right fit – finally, find a practice where you feel at home. Don't hesitate to call with questions, or schedule a consultation to get to know the dentist, staff, and office.
Family Dentistry Services to Look For
If you're looking for a Waco family dentist and practice to care for your smile at any age or stage of development, it's essential that the dentist and team offer a wide array of preventive, restorative, and cosmetic dentistry our-services that grow with your family's smiles. Some of the our-services to consider before choosing a family dentist include:
Pediatric dentistry – practices that claim to be family dentistry oriented should offer dental sealants, fluoride treatments, and patient education to help developing smiles grow healthy and beautiful.
Periodontal therapy – one of the most common health concerns in the US, some estimates report that more than 70% of adults over 30 suffer from gum disease. Prevention and treatment for this detrimental oral health issue is essential for any family practice.
Senior care – as we age, our oral and overall health care needs change. Some of the common dental health concerns afflicting seniors are dry mouth, diminished jawbone density, and tooth loss. We offer treatment for these and many more oral health concerns in our convenient Waco, TX dental practice.
Contact the Family Dentist Lorena Residents Rely On
As a family dentist, we love to see multiple generations of families trust us with their oral health, and our team knows there's no greater compliment than being trusted with your child's smile. Contact Premier Family Dental to schedule an appointment with the team who puts family first, and works hard to make every dental visit a treat.