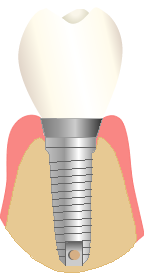 If you're missing teeth, we're here to help. At Premier Family Dental, we offer dental implants to help replace missing teeth securely and keep your smile whole and dazzling.
Dental implants are a great solution because they come closest to mimicking a natural tooth. The implant is secured by a titanium post that's inserted to your jaw bone, mimicking the roots of a natural tooth. The post will bond with your jaw bone over time, creating a secure base for your implant.
Once bonded, we'll attach a custom-made porcelain crown to the post, completing the restoration. Dr. Cofer, Jr. has over 192 hours of study in the field of dental implants. He would love to use his expertise to help improve your smile.
It is important to replace missing teeth for a variety of reasons. First, missing teeth impairs the function of your teeth and may make it harder to eat. Also, once you're missing a tooth, it increases the risk that you will lose another. Finally, when you're missing a tooth, your remaining teeth will shift around over time to try and fill the gap, which could negatively impact the function and alignment of your bite.
If you're missing teeth, dental implants could be the right solution for your smile. Give us a call to learn more and see how you could have a complete smile once again.
Premier Family Dental provides quality dental care from our Waco dental office because we truly believe in the power of a beautiful smile. We serve patients from Robinson, Lorena and the Central Texas area. Call us today to schedule your appointment!