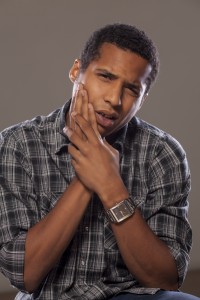 Whether it is mild or severe, living in constant pain would be hard on anyone. Tooth pain is especially taxing on the mind, body, and heart, and is known to be one of the worst types of pain someone can experience. Though tooth pain may not seem like a big deal to some people, there can be serious underlying issues regarding your smile that could cause any sort of pain or discomfort. If you are experiencing tooth pain, you may need root canal therapy performed, and Dr. Rick Cofer is able to give you relief from your discomfort.
A root canal is required when bacteria has infected your tooth's pulp, usually due to a cavity gone awry. When the harmful bacterium has reached your pulp, the result is pain and pressure, and it only gets worse over time. If left untreated, the bacterium in your mouth has the potential to enter your blood stream, putting other areas of your body in harm's way. A few signs that indicate that you may need root canal therapy are tooth pain and sensitivity, tenderness, and discoloration of the tooth.
Root canal therapy is a simple procedure with highly effective and relieving results. Dr. Cofer will address the infected tooth by removing the damaged pulp. After that, he will fill the tooth with a bio-compatible material. Depending on the strength of your tooth, Dr. Cofer may put a crown on top of your tooth, protecting it from further harm and preventing bacteria from entering the tooth again. At the end of the procedure, you are left feeling alleviated of pain! If you would like Dr. Cofer to help with your root canal therapy, make an appointment today at our Waco, TX dental office today!
Premier Family Dental provides quality dental care from our Waco dental office because we truly believe in the power of a beautiful smile. We serve patients from Robinson, Lorena, and the Central Texas area. Call us today to schedule your appointment.