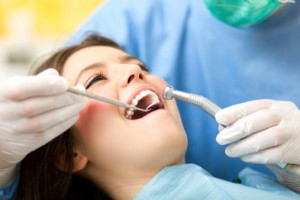 When you think of gum disease, what is the first thing that comes to mind? For most, it's the red, swollen gums that seem to pull back from the teeth or the pink toothpaste in the sink after brushing or flossing. While receding and bleeding gums are among the most common results of gum disease, there are several complications associated with this condition that seem unrelated at first glance. Today, we'd like to talk about the way periodontal therapy can help you reduce your risk of a variety of systemic health problems.
Healthy Gums, Healthy Body
Research has proven the existence of a link between gum health and overall physical wellness. When the bacteria from infected gum tissue are allowed to travel through the blood stream, it can infect other tissues located throughout the body. In fact, multiple studies have discovered a relationship between gum disease and the following serious health conditions:
Pulmonary hypertension
High blood pressure
Complications with diabetes
Stroke
Dementia
Coronary artery disease
Rheumatoid arthritis
Osteoporosis
Complications in pregnancy, including pre-term birth and low birth weight
Fortunately, periodontal disease is highly preventable with proper home hygiene and regular visits to Premier Family Dental for thorough cleanings. If you do develop gum disease, Dr. Cofer and his team can provide you with the periodontal care you need to reduce your risk of further complications.
Protect Yourself from Gum Disease
At Premier Family Dental, we want you and your family to enjoy optimal oral health and overall wellness for life. That's why our Waco, TX dental office is happy to offer an all-inclusive range of preventive and general dentistry our-services. If it has been more than six months since your last dental checkup and cleaning, please contact our office today to schedule your next visit. Our practice proudly serves families from throughout Waco, Lorena, Robinson, and beyond.