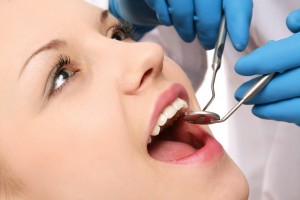 While you probably know that you should come see us at Premier Family Dental twice a year for good dental health, did you realize that we're also checking you for signs of serious health concerns, such as periodontal disease?
Periodontal disease is another name for gum disease. This is caused by bacteria that result from a buildup of plaque on your teeth. At first, your gums will just be inflamed, but if left alone, the bacteria can advance into the gums and cause them to start to pull away from your teeth and form pockets that can become infected. When your gums start to recede, you start to increase your chances of losing teeth.
If left untreated, gum disease can spread and lead to more serious problems, which is why it is so important that you visit our office twice a year so that we can check you for signs of this health concern.  The symptoms are usually mild or easy to confuse for something else. They generally include persistent bad breath, red or swollen gums, bleeding gums, pain while chewing, loose teeth and sensitive teeth. If you have any of these symptoms, it is important to contact us today.
Periodontal therapy is the treatment for this disease. Dr. Rick Cofer, Jr. will remove the plaque and bacteria from your gums and leave you with health teeth once again. It is important to maintain good dental health by visiting our Waco dental office twice a year. We will check your teeth for signs of periodontal disease and keep your smile healthy and beautiful!
At Premier Family Dental, Dr. Rick Cofer, Jr. and our staff provide quality affordable dental care. Our Waco dental office serves patients from Lorena, Robinson, Hewett and the surrounding areas. Call us today to schedule an appointment!