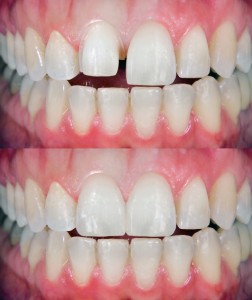 If you have broken or chipped teeth hurting the appearance of your smile, porcelain veneers are the affordable and logical solution to hide the flaws hurting your smile. As a cosmetic dentist in Waco, we are able to use porcelain veneers to instantly transform your smile by hiding chips and cracks. Not to mention, we can also whiten your smile while fixing certain alignment issues for a complete smile transformation. The simple and noninvasive procedure will give you a smile you'll love in just a few simple steps. If you need porcelain veneers in Waco, Premier Family Dental will help!

Porcelain Veneers in Waco
Adding porcelain veneers to your smile is a simple solution. We use very thin porcelain false fronts to hide cosmetic flaws impacting the appearance of your smile. The false fronts are bonded to the front of your teeth for a durable, lasting smile. The simple procedure allows you to have a new smile in just one visit.
Porcelain is used because it's stain-resistant. Plus, it naturally reflects light for a bright, natural appearance so no one will ever know you're wearing the veneers. If you're interested in veneers, we will first need to perform an evaluation to determine if veneers are right for you. We will evaluate your oral health and take molds of your mouth to customize a treatment plan. We will determine how veneers will help correct your smile—no matter if you need to hide a crack, fix a small gap, hide discoloration, or resolve misshaped teeth. We will then send the molds to the lab to create custom veneers to complete your smile.
Once your veneers come into the office, the process will begin. To attach the veneers to the teeth, we will clean and prep your teeth. We will roughen up the front of the tooth to allow for a secure bond using a special cement. Because the veneers are thinner than other types of veneers, we only need to remove a very small amount of enamel to bond the veneers to your teeth. This causes less damage to your natural teeth to preserve their health and function. Once your veneers are in place, you will need to come in for a follow-up visit to ensure the proper placement of the veneers.
Visiting Your Cosmetic Dentist in Waco
With the right care, your veneers will last up to 10 years. You'll simply maintain your home oral hygiene routine with brushing and flossing twice a day with a nonabrasive toothpaste and soft bristled brush. You'll need to come into the office at least twice a year so we can properly clean your teeth. At each treatment, we will check your veneers to ensure they haven't become damaged or loose.
If you're ready for a brighter smile, Premier Family Dental can help. We offer porcelain veneers in Waco to instantly transform your smile in a single office visit. If you're ready for a smile transformation, call our office today at (254) 382-0619 to schedule a consultation.