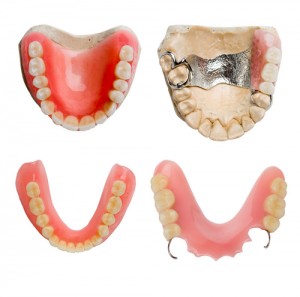 If you're missing numerous teeth, or even all of them, there's no need to despair. Your smile can be repaired with dentures and partials. At Premier Family Dental, we can replace your missing teeth to give you a smile that will function correctly once again.
Patients that have lost teeth quickly understand the importance of a complete smile. Without a full set of teeth, it becomes hard to eat or speak regularly. Also, you'll find yourself wanting to hide your smile from the world. There's no need to be ashamed or suffer in silence. We can use dentures and partials to complete your smile once again.
Dr. Cofer, Jr. will inspect your smile and create a custom denture solution just for you. If you're missing all or nearly all of your teeth, dentures are a great solution. If you're missing a number of teeth in a row, then we can replace those with a partial denture that will be secured by attaching it to the surrounding healthy teeth. We can replace and restore all smiles, so that all of our patients will have complete smiles once again. Please give us a call to learn more or to schedule your initial consultation.
Premier Family Dental provides quality dental care from our Waco dental office because we truly believe in the power of a beautiful smile. We serve patients from Robinson, Lorena and the Central Texas area. Call us today to schedule your appointment.