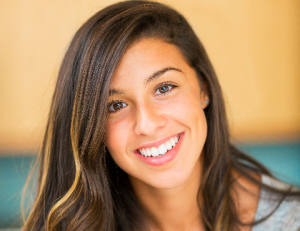 Does the gap between your front teeth cause you to feel insecure about your appearance? To close the space, you have considered braces in the past; however, you do not want to undergo months of treatment. You know that you can also use veneers, but you do not want to permanently alter your teeth, so you have made the choice to live with the imperfection. What if you could resolve the issue with just one appointment? Now you can. Your dentist in Waco can use cosmetic bonding to fill the space for a confident smile.

What is Cosmetic Bonding?
Cosmetic bonding is an affordable and effective cosmetic solution that can be used for an array of issues. Using a composite resin material, chips, cracks, and abnormally shaped teeth are given a more attractive appearance, but those are not the only flaws it can treat. It can also be used to close the space between your front teeth.
The material is customized to match your enamel color to blend in with your teeth for a natural look. In just one appointment, you will have a beautiful smile with results that will last.
How Does Cosmetic Bonding Work?
Using a simple and noninvasive procedure, you can close the gap in your smile without braces or altering the structure of your teeth. After performing an initial consultation, your cosmetic dentist in Waco will create a customized treatment plan.
During the procedure, the surface of your teeth is lightly etched to allow the resin to bond securely. Your dentist will then customize the resin to match your enamel and apply a special conditioning liquid to the teeth. The material is then applied and quickly hardened using an ultraviolet light or laser. Finally, the material is smoothed and polished, so you can walk out of your appointment with a confident beautiful smile.
Will My Results Last?
When compared to other cosmetic procedures like veneers, bonding is the more affordable solution. It will provide you with long-term results with the right aftercare. While the material is strong and durable, it can crack, break, or come loose. As a result, it is best to avoid anything that may cause damage, such as chewing on ice, eating overly hard foods, or using your teeth as tools.
The material is subject to staining, just as your enamel. Therefore, it is best to maintain your home oral hygiene habits and regular appointments with your dentist. In addition, avoid any stain-causing foods, like coffee or berries. If you use tobacco, it is best to stop to prevent discoloration.
Transform Your Smile Today!
If you are ready to close the gap in your smile, it is time to see if cosmetic bonding is the right choice for you.
About Dr. Rick Cofer
For more than 25 years, Dr. Rick Cofer has provided exceptional dental care to families in the area. With a focus on your comfort, he provides tailored solutions to help you achieve a healthy, beautiful smile. If you have any questions about cosmetic bonding, contact Premier Family Dental today.