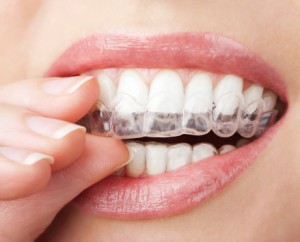 If you have a misaligned or gapped smile, you could find it difficult to be proud of the way you look overall. You may have considered straightening your smile, but the thought of going through life with uncomfortable wires and brackets associated with traditional braces could have turned you away. Fortunately, we live in an age where dental technology is always advancing, and having an aligned smile can be done simply and conveniently! Dr. Rick Cofer is able to offer ClearCorrect Braces to his patients, providing the discreet orthodontic care they deserve.
One of the amazing things about ClearCorrect is that the trays sit clearly on your smile, making it look like you have nothing on your smile at all! ClearCorrect works through a cycle of straightening trays, all custom made to fit your smile only. Each tray is indicative of a different stage of your straightening treatment. After you wear a tray for a certain amount of time, simply remove it and apply the next one in the set! Because each tray is made to fit you, your orthodontic treatment is as personalized as ever, promising amazing results!
One reason why ClearCorrect is wonderful is because you are not restricted to a certain diet while wearing them. With traditional braces, there are certain foods and drinks you cannot enjoy, whereas with ClearCorrect, you have total freedom. Also, you are able to have better oral health with ClearCorrect, as any time you have to floss, drink, brush, or eat, simply remove and reapply the tray when necessary. If you would like Dr. Cofer's help in aligning your smile using ClearCorrect, contact our office today!
Premier Family Dental provides quality dental care from our Waco dental office because we truly believe in the power of a beautiful smile. We serve patients from Robinson, Lorena, and the Central Texas area. Call us today to schedule your appointment.