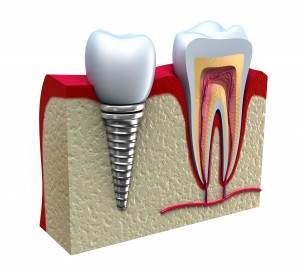 For a lot of people, having insecurities about your smile can be crippling. It may be the color of your teeth, the misalignment, or the apparent fillings. A lot of people, though, are not confident in their smile because they have missing teeth. Dentures partials are a couple ways to handle the issue, but dental implants at Premier Family Dental may be perfect for you! A life changing and convenient procedure, dental implants can definitely revolutionize your life for the better.
The adventure of dental implanting starts with a consultation with our very own Dr. Rick Cofer. There, he will be able to evaluate your smile and speak with you about your long term goals. Once you are considered to be a candidate, the fun actually begins. A metal implant, very much resembling a screw, is embedded into your jaw bone. This metal implant provides security and stability for your new teeth. Then the abutment is added, which is essentially a support system for the metal implant as well as the crown placed on top. After that, the tooth-resembling crown is cemented to the abutment, completing your new look!
With a 98% success rate, dental implants will give you back the self esteem you lost, as well as improve your speech and ability to eat. One other plus regarding dental implants is the fact they look very natural. Smoothly blending in with your natural teeth, implants are a sure way for you to look as organic and natural as possible. With Dr. Cofer being able to do the whole procedure in his office, it is a convenient, wonderful way for you to change your smile! Contact our office to see if you're a candidate for dental implants, and celebrate the New Year with a new smile!
Premier Family Dental provides quality dental care from our Waco dental office because we truly believe in the power of a beautiful smile. We serve patients from Robinson, Lorena, and the Central Texas area. Call us today to schedule your appointment.