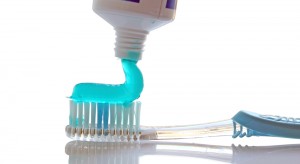 Simple actions such as brushing and flossing your teeth on a daily basis are excellent ways in making sure your smile is as healthy as it can be. Many people do not realize that brushing and flossing your teeth every day not only take care of your oral health, but the health of your entire body as well. When you walk down the oral care aisle, there are so many options to choose from that you may feel overwhelmed. Choosing the right toothpaste for you may seem like an easy enough task, but it can really take some thought in order to make sure all of your oral care needs are properly met. Dr. Rick Cofer wants his patients to be as informed as possible when choosing a toothpaste as to achieve oral health success.
A very important aspect to look for when choosing a good toothpaste is making sure that the toothpaste has fluoride. Fluoride is a natural mineral that strengthens your teeth as well as attracts other minerals, all contributing to a healthier, stronger smile. Fluoride also prevents dental decay, cavities being an example. Acid is released when the bacteria in your smile feed off of the sugars and starches left behind after you eat and drink, and fluoride is an excellent way to fight that acid.
Another thing to look for is making sure the toothpaste has tartar control. Tartar is hardened plaque, and, if left to its own devices, puts you at a higher risk of gum disease and other oral decay. Some tartar control toothpastes contain Triclosan, which is an antibiotic that kills bacteria that live in your mouth. One of the most important things to look for is a toothpaste that is ADA approved. Keeping these few tips in mind, you are sure to experience better oral and bodily health!
Premier Family Dental provides quality dental care from our Waco dental office because we truly believe in the power of a beautiful smile. We serve patients from Robinson, Lorena, and the Central Texas area. Call us today to schedule your appointment.