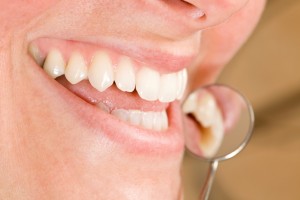 You use them to smile, to eat, and they help you speak properly, too — but do you really understand the basic anatomy of the tooth? Your family dentist in Waco, Dr. Rick Cofer, is here to help you know more about what's going on with your pearly whites, and why it's so important to keep them healthy with regular preventive dental care.
The Basic Parts of a Tooth
The different parts of the tooth include the crown, its enamel, the gum line and root and the dentin and pulp inside the tooth.
Crown: The visible portion of the tooth, or the white part that you use to bite and chew.

Enamel: The hard surface of the tooth, or the outermost layer that you clean when you brush. This is where cavities first form.

Gum line: Where the tooth and the gum meet.

Root: Part of the tooth that you can't see, which provides it with important support and stability.

Dentin: The layer of the tooth that's found right beneath the enamel.

Pulp: The very centermost part of every tooth. Because this is where the nerves and blood vessels of the tooth are located, you'll feel it when decay reaches the pulp.
This basic anatomy is the same for all teeth — including the incisors (the front teeth), the canines, premolars and molars (very back teeth).  
Preventive Care Key to Healthy Teeth
Maintaining healthy teeth and gums requires excellent preventive dental care. That includes brushing your teeth for two minutes, twice a day, flossing daily and visiting the dentist for six month checkups and cleanings.
When you stay on top of your twice-annual visit to the dentist, you're benefitting from the care of a team of professionals who have your smile's best interest in mind. During these visits, your dental hygienist will remove plaque and tartar buildup from the tooth enamel and around the gum line — crucial steps for preventing cavities and gum disease. If spots of decay exist, it's best to catch them early so your dentist can restore your tooth back to its health with a quick filling — preventing more extensive work (like extraction) later on.
Schedule an Appointment Today!
When was your last visit to the dentist? If it's been more than six months, or if you can't remember the last time you sat in the dental chair, don't wait another minute! Call your dentist to improve your oral and overall health. The team at Premier Family Dental can help you enjoy healthy teeth for a lifetime to come! Schedule your appointment today. Your Waco dentist can't wait to see you smile!