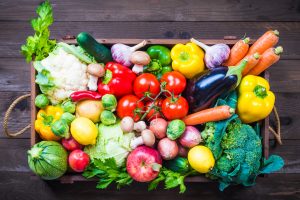 Eating right is important for your overall health, as well as your looks, but did you know that your diet impacts your smile, too? We all know that we should avoid sugar to prevent tooth decay, but what should we enjoy instead? The team at Premier Family Dental, your dentist in Waco, TX, explains that vegetables are one of the best food choices you can make for your grin. Find out why veggies are so great for your teeth in this post.
Veggies Are Nature's Toothbrushes
Dr. Cofer knows that vegetables are toothbrushes from Mother Nature. Foods like raw carrots, celery, and broccoli are fibrous, and they scrape away food particles and bacteria from your teeth. These crunchy treats also increase saliva which is great for your mouth, since this natural lubricant remineralizes your teeth and prevents cavities.
Raw vegetables are especially great because they are hard on your teeth, in a good way – they provide ample pressure to stimulate your jaw and keep your oral bones strong.
Veggies Are Filled With Nutrients
Teeth are nourished from the inside out. Since your dentitions are bones, they need vitamins and minerals like calcium, magnesium, iron, and vitamin A and C. Vegetables have all the nutrients and antioxidants your teeth need – plus, they're versatile and taste great.
Veggies also keep your blood sugar stable, which is crucial for decreasing inflammation in the body and preventing conditions like diabetes, which can cause tooth loss.
What Veggies Should I Eat For A Healthy Smile?
Dr. Cofer recommends increasing your intake of the vegetables below to increase your oral, and overall, health:
Leafy Greens – Spinach, kale, Swiss chard, and turnip greens are packed with calcium, magnesium, and iron among other essential vitamins, so load up on these.
Carrots – A great source of vitamin A, carrots do a great job of reducing cavities and keeping your smile bright.
Celery – Those characteristic strings and fibers from celery are excellent at whisking bacteria and food particles away from your teeth. Plus, this veggie is filled with vitamin C – and it's pretty tasty with peanut butter or cream cheese.
Cucumbers – These are great since they are filled with water – if your mouth is dry, try snacking on some cucumber slices, and be sure to add them to salads to get the most from this vegetable.
Bell Peppers – Crunchy and satisfying, bell peppers are filled with antioxidants that improve your smile – which is why they're so brightly colored.
Garlic & Ginger – As a root spice, garlic has natural antimicrobial properties – its great at keeping gum disease at bay. Ginger is good because it freshens breath and can prevent germs from growing in your mouth.
Need a new way to enjoy your vegetables? Get creative with this food group and try some of these delicious recipes.
Now that you know why veggies are so great for your teeth, as well as your entire body, schedule your appointment with the team at Premier Family Dental to get more oral health tips and keep your smile shining bright!