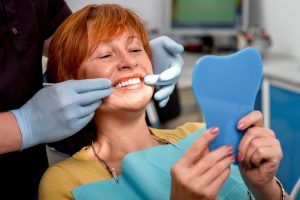 Whether you've reached a certain age of you've just experienced an accident, your mouth can experience some considerable damage over time. Tooth decay can easily cause teeth to fall out, forcing patients to replace teeth entirely. However, sometimes a removeable denture or dental bridge just isn't enough. Sometimes more significant work is needed to fix the physical aspects of our mouth, face, and smile as well. That's where your cosmetic dentist in Waco comes in.
Today, we'll be talking about smile makeovers and why they're so popular among patients. After completion, patients really do feel like they're lives are changed for the better.
A Smile Makeover Can Improve Your Confidence
Many people who pursue smile makeovers do so because they genuinely don't enjoy the look of their current smile. Some patients decide on less invasive cosmetic treatments such as teeth whitening to give their smile a boost of whiteness. However, other patients go a step further and have porcelain veneers placed, especially if they have more significant damage or discoloration in their teeth.
Regardless, being able to flash a beautiful smile to colleagues, friends, family members, and potential love interests can make a huge difference in your confidence, self-esteem, and attitude. After receiving treatment from your dentist in Waco, you may be surprised at how often people catch you smiling. You may experience more compliments as well as additional credibility from your peers. People who smile often are typically considered more credible, so take notice at your next important meeting.
You'll Maintain Better Oral Health
While some treatments work to improve the overall appearance of your smile, many dental restorations do a great job at protecting your existing teeth as well. For example, for those who experienced an accident where a tooth cracked, a dental crown can be made to cover the affected area, protecting it from bacteria. Without it, the tooth can easily become infected and cause complications later on. For patients with crooked teeth and a bad bite, clear braces can realign your teeth, making it easier to clean and preventing problems associated with TMJ disorder.
You'll Look Younger and Retain Bone
Finally, patients who are looking for a more substantial, long-term solution for tooth loss can find solace in dental implants and implant-retained dentures. Not only do dental implants transform your current smile into a thing of beauty, but they function just like natural teeth.
Patients who wear dentures know that they don't replace tooth roots, which means bone resorption will occur and facial elasticity can become negatively affected. Dental implants are the only restoration that allow blood to flow back to the mouth and face. They're also the only treatment designed to stimulate bone growth. With these benefits combined, you can expect a more youthful appearance as well as a more functional mouth.
Need help planning your next smile makeover? Schedule an appointment with your cosmetic dentist in Waco today to get started!
About the Author
Dr. Rick Cofer is very capable of providing patients a smile makeover that they're guaranteed to enjoy. Thanks to his 192 hours of study of dental implantology and experience with using technology like ClearCorrect, he's ready to help you get the smile you've always dreamed of. To learn more about his cosmetic/restorative treatments and practice, contact him at (254) 732-0309 or visit his website.