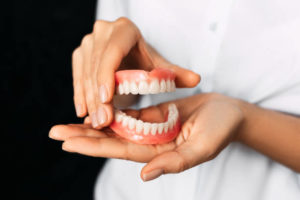 If you're ready to invest in a beautiful, functional smile with dentures, you're making a great decision. However, the process of replacing your missing teeth won't happen in one day. It requires a multi-step treatment plan to ensure comfortable, natural-looking results. Here's what you can expect each step of the way.
Start to Finish Denture Process
Every mouth and situation differs, so there's no set timeline for treating tooth loss. Many factors will affect the duration of your treatment, which you can expect to include:
Consultation
Your first step to a complete smile involves a consultation with your dentist. They'll examine your mouth and review diagnostic images to create a personalized plan to replace your lost teeth. They'll look for any issues that need to be addressed first, like gum disease.
Preparatory Procedures
It's not uncommon to require a few preliminary procedures to set the foundation for your dentures, like tooth extractions or gum disease therapy. Your mouth must be healed from any previous treatments before starting the process for your dentures.
Impressions
Once your mouth is healthy, your dentist will take an impression, which is used to create an acrylic base that will rest on top of your gums. This ensures it will fit like a glove for maximum stability and comfort. The impression is also used to create your new teeth, which will be carefully crafted to look realistic.
Wax Mock-Up
Your impression is sent to the dental lab, where they'll create a wax mock-up. You'll return to your dentist to "try on" your new smile. Your dentist will check the fit and your bite to make adjustments before receiving your final denture. It can take one or more appointments to perfect the fit.
Denture Delivery
After all adjustments are complete, the dental lab will send your dentist your new set of teeth. You'll return to the office to receive your denture. You'll be scheduled for a follow-up appointment in a few weeks for any additional adjustments.
Your dentist will explain what you can expect on the road ahead and answer any questions. You can avoid delays in your treatment by following your dentist's instructions and maintaining your appointments. In no time at all, you will have a stunning smile that you'll be proud to show off.
About Dr. Ryan McNutt
Dr. McNutt studied biology, chemistry, and cell and molecular biology before earning his dental degree at the University of Missouri. He is a lifelong learner and regularly continues his education to provide up-to-date services. Request an appointment through his website or call (254) 382-0620.