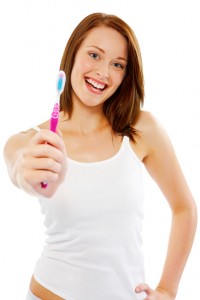 Curious about how often to replace your toothbrush? Whether soft, medium or hard bristles are best? Dr. Cofer, your trusted Waco dentist, is in with answers to these and other top toothbrush mysteries.
1. Replace it often
It's simple — a worn toothbrush just doesn't clean your teeth and gums as well as a new one. Your toothbrush should be replaced every three to four months, or as soon as its bristles show signs of wear. You should also replace it after illness to prevent the spread of germs.
2. Calm down!
It may feel like you're getting the best clean when you're brushing hard, but that aggressive cleaning can result in gum recession — an irreversible problem that causes tooth sensitivity and even eventual tooth loss. Make sure you're brushing in gentle circles rather than with aggressive back-and-forth motions.
3. Soft bristles are best
You can choose soft, medium or hard bristles for your manual or electric toothbrush. Because many people tend to brush too vigorously, we recommend soft bristled toothbrushes as a general rule. Softer bristles clean just as well, without putting your delicate gum tissue at risk. Choose a toothbrush with rounded edges for even more protection.
4. Use it twice a day, every single day
No matter what, the best toothbrush is the one that gets frequent use. Make sure you're brushing for two minutes, at least twice a day — preferably after breakfast and before bed. But if you struggle with bad breath or excessive plaque and tartar, you'll benefit from more frequent brushing. Try setting a timer if you have trouble reaching the two minute mark at first.
5. … and don't forget the floss
Flossing is just as important as brushing, so make sure you don't skip this crucial step. Floss is your only method for removing the leftover food particles and bacteria your toothbrush just can't reach. Start with about 18 inches of floss, and gently work fresh section between each tooth and around the base of the gum for the most thorough clean.
There you have it — the top five things you probably didn't know about your toothbrush routine. Still have questions? Let us know about it in the comments below!  
And don't forget to combine regular toothbrushing with twice-annual visits to the dentist in 76712 for optimal oral health. Has it been more than six months since your last checkup and cleaning? Don't wait to practice good preventive dental care! Contact us to schedule your appointment with the family dentist in Waco TX today.