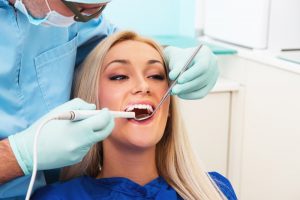 Are you ready for a new smile, but don't the best way to go about achieving it? The flaws among your teeth have made you feel insecure about what your smile has to offer for too long now. Your Waco dentist can help you decide which treatment is best for you. Let's explore the cosmetic our-services we offer at Premier Family Dental.
Cosmetic Services Offered at Premier Family Dental
Porcelain Veneers
Did you know that those flaws in your smile can be easily masked without extensive procedures? That's right: no adjusting, shifting, or extracting to achieve the smile of your dreams! The veneers that we offer in our Waco office are created from high-quality dental materials. These new veneers will blend seamlessly among your natural teeth. If you have any of these flaws or a combination of them, you should consider getting a smile makeover with the help of our porcelain veneers in Waco:
Irreversible stains
Chipped teeth
Worn teeth
Crooked teeth
Misshapen teeth
Uneven spaces and gaps
Dental Implants
Yes, dental implants can be considered a cosmetic procedure. If your teeth are damaged to the point of being about to fallout or if you have so many missing teeth that it affects the aesthetics of your smile, replace those teeth with dental implants. Not only will you improve the look of your teeth, but your oral health will be restored with the best tooth replacement option available on the market! Dr. Cofer can replace your teeth from root to crown and offer these other benefits:
Ability to blend well with the rest of your smile with seamless, tooth-colored dental prosthetics.
Durable restorations built to last the rest of our patient's lives with the proper care and regular checkups.
No abrupt changes in your dental hygiene routine, your restorations can be cared for just as regular teeth.
Ability to chew, speak, and smile confidently once again.
ClearCorrect Braces
Is straightening your teeth on your to-do list? You don't have to do it with metal brackets and wires! Dr. Cofer offers a better solution: ClearCorrect braces. Here are some of the benefits you would experience with this orthodontic system:
Patients with metallic allergies can still straighten their teeth.
Gently, gradual shifts teeth from a light pressure rather than painful tightening appointments with an orthodontist.
Custom fitting aligners made just for you for personalized treatment.
The aligners are practically invisible.
The aligners are removable so you can eat the foods you've always enjoyed.
Your dental routine stays the same since you can remove your aligners when it's time to complete your dental routine.
Professional Teeth Whitening
Achieving a brighter smile has never been easier with these two options: in-practice and at-home professional teeth whitening with Zoom! When you choose to visit a professional like Dr. Cofer, your safety and convenience are our first priorities. Each treatment is specialized to fit your whitening goals and can be combined with other cosmetic treatments to reach your goals the quickest way possible. Look at all these ways teeth whitening can benefit you and your smile—whether you practice your whitening in our office or at home:
You'll have more confidence.
Most patients tend to practice better oral hygiene habits.
You'll have a more youthful appearance.
Society correlates white smiles to friendliness and success.
Ready for a new smile?
Cosmetic dentistry has made leaps and bounds to create convenient ways for patients to achieve the smiles they desire. If you're ready to get the smile you've always dreamed of, contact us to discuss our modern options. We would be happy to help you!