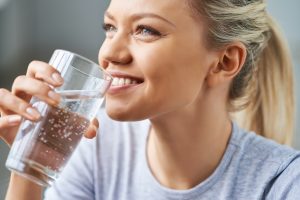 If you're on one of those health kicks, you may be outing a few things from your diet. Replacing juice and sodas with water is tougher than it sounds. Sometimes you just need a little bubble to spice up your beverage so you drink sparkling water. You thought, there's no way I can cheat on my diet if I drink sparkling water!
False! Not only have studies found that sparkling water can actually aid weight gain, but it rots your teeth. Your Waco dentist is here to explain how sparkling water could be damaging your smile.
How can sparkling water make my teeth decay?
It may be difficult to fathom that a beverage with no sugar or added flavors is bad for your teeth. The reality is that the bubbly effect created from carbon dioxide has a chemical reaction in your mouth each time you take a sip of sparkling water. This is what happens:
The chemical reaction in your mouth turns the carbon dioxide into carbonic acid (this gives the drink that fun, refreshing bite in your mouth comparable to soda).
The acid formed can wear away tooth enamel.
Your teeth can become more exposed to dental bacteria and other problems.
If you add lemon or lime to your sparkling water, you're adding even more acid to your drink!
So, what should I really drink the optimize my health?
Okay, one thing is true: sparkling water is healthier for you than soda or juice by a long shot. But there is still another fact that stands: sparkling water is more harmful to your mouth than good ol' water. Simply put, water is the best substance that you can have at any given time. That goes for your oral health as well as your overall health.
If you need proof, take some time to look at a pH scale. Need help understanding the scale? Basically, the lower the number, the more acidic (worse) it is for your oral health. Pure water has a pH level of 7 compared to sparkling water with a pH level of 5.
The Bottom Line: Drink Water
It's always best to stick with natural substances when it comes to taking care of your body. Although you may be trying to be more health conscious, be aware of what man-made foods and drinks are doing to your whole body—including your mouth.
Meet Your Dentist
When you choose to visit Dr. Cofer for help maintaining your oral health, he will not only provide high-quality our-services but also offer them at a terrific value. Everyone wants to be healthy and make health-conscious decisions and you should be able to have a dental expert, like Dr. Cofer, in your corner at an affordable price. Premier Family Dental offers reasonable prices for excellent, next level our-services and advice. If you would like to meet with Dr. Cofer, feel free to call our Waco office.