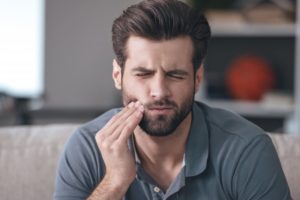 To slow the spread of the current COVID-19 pandemic and keep their patients and staff safe, nearly all dental practices in the nation have chosen to temporarily close. Many are adhering to high standards of sanitization to keep their offices safe while they continue to handle dental emergencies throughout quarantine. However, if you can treat your dental issues at home until stay at home orders have been lifted, you'll be safer from the coronavirus. Here's how to tell if you're experiencing an urgent emergency or if you can handle your situation at home until your dentist reopens.
Urgent Dental Emergencies That Need Professional Care
If you are in danger of losing a tooth or have a serious oral infection, you need to see your dentist right away. Circumstances that need to be seen by your dentist as soon as possible include:
Severely broken tooth: Not only are broken teeth painful, but the exposed inner layers of the tooth may become damaged or infected if not treated right away.
Loose or knocked-out permanent tooth: Chances of successfully reattaching a knocked-out permanent tooth diminish after 30 minutes, so call your dentist right away. If your permanent tooth is loose or wobbly, it needs to be stabilized by a professional to keep it in place.
Dental abscess or intense toothache: An infected tooth can become life-threatening if left untreated. Seek immediate dental care if you have a small bump on your gums or intense toothache accompanied by fever, fatigue, or swelling. If you have difficulty breathing or swallowing call your local ER instead.
Handling a Non-Urgent Emergency at Home
Damage, pain, or any other issue in your mouth should be seen by your dentist right away. While the following situations may be classified as "emergencies," neither you nor your smile are typically in immediate danger. To lower your risk of COVID-19, these small but scary dental emergencies can be treated at home until your dentist reopens:
Slightly damaged tooth or lost filling: If your filling is dislodged or your tooth is lightly chipped or cracked, you can prevent further damage and ease tooth sensitivity by covering it with dental wax or a piece of wet, sugarless gum.
Mild to moderate toothache: To treat tooth pain at home, try flossing, rinsing your mouth with saltwater, applying a cotton swab with two drops of clove oil onto the tooth, or taking over-the-counter pain relievers as directed.
Inflamed, tender, or easily bleeding gums: These symptoms are typically associated with a bacterial infection known as gum disease. To keep it at bay, brush your teeth for two minutes twice a day, floss all your teeth daily, and use an antiseptic mouthwash regularly.
It's more important than ever that we all do what we can to prevent dental emergencies. However, knowing which situations require urgent care and which ones can be treated temporarily at home can keep you safe and your smile intact.
About the Author
At Premier Family Dental in Waco, TX, our number one priority has always been the wellbeing of our patients, staff, and community. That's why Dr. Rick Cofer has made the decision to temporarily postpone non-urgent dental appointments. If you are experiencing a dental emergency and need immediate care, he and his staff have taken extra measures to ensure the office is as safe and clean as possible while you receive your urgent treatment. He can be reached via his website or at (254) 732-0309.