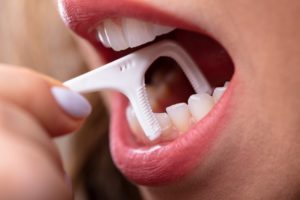 When your smile is comfortable and healthy, it's easy to not give it much thought. But when you get something stuck between your teeth, it can drive you crazy! While most of the time this occurrence doesn't lead to a more serious oral health issue, it is essential to remove the object as soon as you can. Here are five helpful steps to free your grin from an object lodged in your pearly whites.
Tip #1: Push Carefully with Your Tongue
The first thing you should try to do when you feel something get stuck between your teeth is to push it out with your tongue. Be sure to be gentle; if you are too forceful, you could cause some jaw muscle discomfort. You can also risk certain negative conditions such as chewing issues, TMJ disorder, and even changes in your speech pattern.
Tip #2: Floss Gently
If your tongue is unable to remove the object, the next best thing is to try to remove it with dental floss. It's important to be careful when sliding the floss back and forth, as you won't want to accidentally harm your gums in the process. Go slowly and attempt to dislodge it. If it is still stuck, no worries! There are other ways to handle the situation.
Tip #4: Use a Toothpick
Yep, the good ole' toothpick! It's inevitable this age-old tool would be used to try to remove something stuck in your teeth. While many people use a toothpick after a meal to get rid of leftover food debris, it's essential to also use it with ease when trying to remove an object from your smile. You want to be sure to protect your gums from being harmed or damaged. This little wooden stick is especially helpful in combination with flossing.
Tip #4: Munch on Crunchy Foods
Consuming some crunchy veggies is a natural and healthy way to get rid of stuck food particles and debris in your teeth. By eating snacks like carrot sticks or celery, you will not only clear away dislodged matter, you'll also be able to enjoy a nutritious and edible toothbrush!
Tip #5: Make a Trip to Your Dentist
If you have tried all these tips to no avail, then it's time to schedule a visit with your dentist. After a thorough examination, they can assess your oral health and effectively remove anything stuck between your teeth. After your appointment, your smile is sure to be comfortable once again.
By following these helpful tips, it's more than likely you will successfully remove the object that is lodged between your teeth. And the good news is that if you need more help, your dentist is only a call away!
About the Author
Premier Family Dental keeps the smiles of Waco comfortable, healthy, and beautiful through the expertise of its two dentists. Their goal is to provide exceptional dentistry with a personal approach. With the use of advanced dental technology and customized plans, they offer a full range of our-services, including emergency care. To schedule an appointment as soon as possible, contact him through his website or call (254) 732-0309.