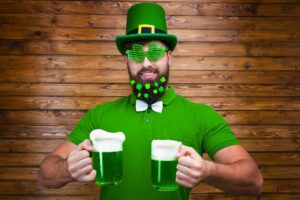 Are you looking forward to celebrating St. Patrick's Day? It is a great occasion to gather with friends and family to enjoy some laughs and Irish beer, plus delicious foods. Even though this day of wearing green is something to get excited about, it does pose some risks for your smile. Your emergency dentist in Waco is here to help so you don't end up with oral health issues. Continue reading to learn some tips to prevent dental emergencies on March 17.
Pass on the Green Beer
If you are heading to a bar, pub, or restaurant in the United States, you are likely to see some cheap beer with a few drops of green food coloring. This may seem like the perfect way to celebrate St. Paddy's Day, but not if you aren't fond of staining. Even though it won't be permanent, you can't expect your pearly whites to stay that way if you're sipping green brew.
Take It Easy with the Stout Beer
Stouts are very popular on St. Patrick's Day. They contain roasted malts and barley to add to the flavor of the beverage, which also tends to stain teeth. Their dark color can transfer to enamel and lead to discoloration. Having a stout on occasion probably doesn't do too much damage, but if you are drinking them regularly, you could face staining.
Check the Acidity of Your Beer
When compared to water, beer is very acidic. In general, it checks in at approximately a "four" on the pH scale. Acid is terrible for your teeth because it wears away your protective enamel, making it more likely you suffer tooth decay and other oral health issues. If you decide to sip on beer the whole night, your teeth could be in trouble. The best way to combat this is by brushing your teeth before bed, and don't forget to floss, of course.
Drink Water Early and Often
If you are having a beer or two on St. Paddy's Day, be sure you are drinking water as well. Dry mouth is a common negative side effect of consuming alcohol. By staying hydrated, you can prevent this from occurring or at least lessen the effects.
On St. Patrick's Day, have a great time, and look out for your smile along the way. Keep the aforementioned tips in mind and you'll wake up the next day with a grin worthy of a pot o' gold!
About the Practice
There's no need to sit down with your laptop and type in "dentist near me" because Premier Family Dental is your dentist in Waco to address all your needs with optimal care and friendly service. Our approach is simple: we treat people the way we would like to be treated. If you're looking for quality dentistry with an affordable price tag, your search is over. Our dentists will be ready to help you after the Irish day of celebration with a dental cleaning and exam, which you can schedule on their website or by calling (254) 732-0309. If the unexpected ever happens, you can also contact them for an emergency appointment.