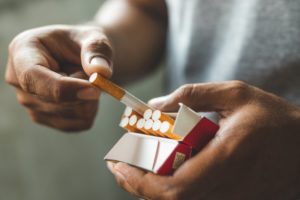 Dental implants are considered by many people to be one of the most crucial developments in dentistry. After all, they help individuals regain their lost chewing power, provide jaw support, and are very natural in appearance and feel. Dentists will evaluate a patient's oral health and medical history before giving the green light for the procedure. The question is, will the combination of smoking and dental implants be more likely to get a red light for a patient seeking the procedure, or perhaps, lead to a higher probability of trouble with dental implants down the road?
How Does Smoking Affect Oral Health in General?
As smoke is inhaled, it can burn the tissues in your mouth and thicken the top layer of skin cells. Smoking can also cause your mouth to be drier, which makes it easier for bacteria to grow and increases the risk of gum disease.
Nicotine and other byproducts in tobacco impact blood vessels closest to the skin, reducing blood flow to the gums and affecting immune mechanisms and the body's ability to heal. None of this rules out smokers being able to get dental implants, but it certainly increases the chances of potential issues.
How Can Smoking Impact Healing After a Dental Implant Procedure?
When someone smokes, it affects the process of bone growth on and around the implant post, which is called osseointegration. More specifically, it can delay healing. This increases the chances of infection and possible implant failure. That risk is greatest during the first 2-3 weeks after implant placement and especially when someone is a heavy smoker.
What About Smoking Once Your Dental Implants Have Healed?
Even after healing, the environment is slightly more dangerous in the mouths of smokers. Smoking can increase the rate of bone loss around dental implants, and even if the amount is relatively small per year, the cumulative effect over time could be problematic.
It is believed that a history of smoking could be associated with a failure of the implant to remain firmly fused to the bone even after it is established. Though the difference in implant failure rates between smokers and nonsmokers is not especially large, if you were to actually have implant failure because your smoking reduced the structural integrity of the implant, obviously it would be a huge deal.
If you decide to commit to implant treatment, you'll want to do everything in your power to ensure it is a long-term success. The only way to give yourself the best chance is to quit smoking completely, or at the very least stop for a week or more ahead of the procedure and at least two weeks afterward. Also, good oral hygiene will be essential, so be sure to have regular checkups and cleanings with your dentist.
About the Practice
There's no need to sit down with your laptop and type in "dentist near me" because Premier Family Dental is your dentist in Waco to address all your needs with optimal care and friendly service. Our approach is simple: we treat people the way we would like to be treated. When it comes to dental implants, we can complete the entire process in-house while utilizing a cone beam scanner for precise placement; plus Dr. Rick Cofer is a Fellow of the International Congress of Oral Implantologists. You can schedule a consultation on our website or call (254) 732-0309.