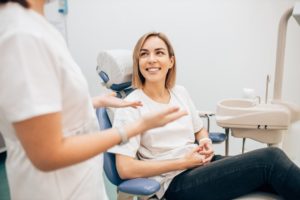 Each year, millions of people choose cosmetic dentistry as an option to transform their smiles. Maybe you've decided to set up a cosmetic dental consultation with your dentist to learn more about the options you have. Before you speak with them, your Waco dentist suggests ten great questions you can come to the table with so that you're fully aware of what to expect.
Questions to Ask your Cosmetic Dentist
Any dental procedure, especially if it is one that is new to you, is something you want to be fully prepared for. It only makes sense for you to have a meeting with your dentist prior to cosmetic dental treatment so that you can communicate to them what your specific goals are for your smile. Before you have that conversation, here are ten questions you can be prepared to ask your dentist that will make the process more understandable and stable for you:
Am I a good candidate for the procedure I want to have done? There are certain cosmetic dental procedures that may not work for some people for multiple reasons, such as existing oral health issues. Regardless of the situation, your dentist can help you find an option that works for you.
How much cosmetic dental training do you have? Most accomplished dentists hold one or multiple board certifications. Asking them about it not only gives them a chance to brag a little on their accolades, but it also provides you with confidence that you're receiving the best possible treatment.
How often do you perform the specific procedure I am considering? If your dentist has performed the procedure you're thinking of having many times, you'll know that the likelihood for success is very high.
What are the risks and benefits? Each cosmetic procedure is different, and your dentist can explain the ups and downs of the options.
Will there be an anesthetic or sedative involved? Not everyone's body responds well to anesthesia, and if you've never had it, it's important to know what to expect from it or what type your dentist recommends for your specific procedure.
What is the success rate for this procedure? "The proof is in the pudding," and results don't lie. One of the best ways to know whether or not a cosmetic dental procedure is going to work for you is to find out what the previous success rate looks like.
Can I see before and after examples? Being told that something was a success and seeing it with your own eyes are two different stories. Ask your dentist for before and after examples of the procedure you're having done.
Can I see a preview of the end result? Modern dental technology has advanced, and many dentists now have the capability to provide digital projections of what your results will look like. Having a more personalized idea of your unique results will make the process more exciting for you.
Are there any other cosmetic procedures you would recommend for me? Your cosmetic dentist is a professional in their field, so they may be able to recommend options that could work for you that you may not be aware of.
What are the estimated costs? Last, but possibly most important of all, you will want to know what to expect financially going in. Some cosmetic dental procedures are not covered by insurance, so be sure to ask your dentist about the different payment options their practice offers.
Know exactly what you're getting into when it comes to your next cosmetic dental procedure. Be prepared with the above questions when you talk to your dentist so that you can be confident that your smile will be successfully enhanced.
About the Practice
Dr. Rick Cofer and Dr. Joshua Maxwell lead the team of experts at Premier Family Dental. They are highly skilled cosmetic dentists who understand the importance of patient education when it comes to different procedures. Years of experience and continuing education give them the ability to offer the highest quality of care in Waco. Are you ready to schedule your cosmetic dental consultation? You can do so online or call (254) 732-0309.