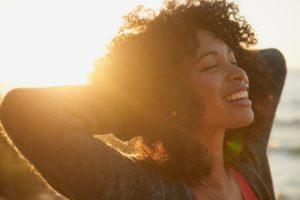 Summer is finally here! Even though this summer is drastically different from those in years past, you can still enjoy plenty of social distant outdoor activities with friends and family. Of course, the one thing that happens at most of these gatherings is picture-taking. If you have crooked teeth, this can fill you with dread. Since you're an adult, maybe you feel like you've missed the boat when it comes to straightening your smile. After all, you don't want to wear braces and look like a dorky teenager again. Fortunately, ClearCorrect can align your smile discreetly and without any metal. Keep reading below to learn more about these clear braces in Waco.
What Is ClearCorrect?
ClearCorrect utilizes a series of transparent plastic trays to gradually shift your teeth into the proper alignment. After your dentist takes impressions of your teeth, they'll design a series of aligners, with each set gradually moving your teeth toward their final positions. You'll wear these aligners for at least 22 hours a day, essentially only removing them to eat, drink, and take care of your oral hygiene needs.
Is ClearCorrect Right for You?
ClearCorrect is a wonderful way for teenagers and adults alike to correct the following orthodontic issues:
Mild overbite or underbite
Crowded teeth
Gaps between teeth
Generally crooked teeth
Why Is Summer the Perfect Time to Start ClearCorrect Treatment?
The primary benefit of ClearCorrect is right there in the name; these aligners are just barely visible while you're wearing them. Unless someone knows what they're looking for, or they're standing extremely close to you, no one should even be able to tell you're undergoing orthodontic treatment. You should be able to enjoy all your favorite summer activities without any of your friends and family noticing your aligners!
Another major benefit of ClearCorrect is its ability to help you achieve a fully straight smile in a fraction of the time that traditional braces take. The average treatment time with ClearCorrect is 12-18 months. This means that by the time next summer rolls around, you should be almost or even completely finished with treatment. Your smile will look so much more stunning just in time for summer photos!
Ultimately, the only way to know for sure whether you're a good candidate for ClearCorrect is to receive a thorough examination from your dentist. Give them a call today to schedule a consultation for ClearCorrect and get started on your journey to a straighter smile!
About the Author
Dr. Rick Cofer is a dentist in Waco, TX who earned his Doctor of Dental Surgery degree from Baylor College of Dentistry. He is a certified ClearCorrect provider and can help you attain your goal of having a straight smile in less than two years on average. To learn more about whether you're a good candidate for ClearCorrect, visit his website or call his practice at 254-732-0309.