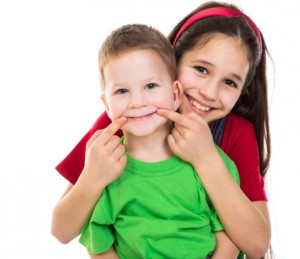 Is there anything more heartwarming that your baby's tiny smile looking up at you? Probably not. And you know that your child needs to see the dentist in order to have a healthy mouth and smile. But you may be asking yourself questions like "At what age should my baby see the dentist?" "What happens at the first appointment?" "How can I prepare my child?" Waco children's dentist Dr. Rick Cofer is here to answer those questions and more.
Early Hygiene
Even before you bring your child to see Waco dentist Dr. Cofer, you should be caring for your baby's teeth at home. After every feeding, use a soft cloth dampened with water to wipe their gums if they don't have teeth yet. Once that first tooth erupts, switch to a baby-sized toothbrush. Don't use toothpaste until your child is old enough to spit, around the age of two or three.
Scheduling a First Visit to the Dentist in Waco
Dr. Cofer and his team would like to see your child for his or her first visit between the ages two and three. By this age, your child should be able to sit in the "big dentist's chair" comfortably, hold their mouth open and respond to questions and instructions.
At this first visit, one of our gentle hygienists will count their teeth—all 20 primary teeth are usually in place by the age of three—clean their teeth with their favorite flavor of toothpaste, and examine their teeth and gums for signs of decay or gum disease. The last thing we want to do is frighten a child. Therefore, if there's any part of the appointment that they don't seem ready for, we may delay that until they are older. Dr. Cofer wants these early visits to be pleasant and even fun, so your child will have happy memories of seeing the dentist and always want to maintain their smiles with regular dental checkups.
Preparing Your Child to See the Dentist
There are many things you can do to familiarize your child with what will happen during their visit to our office. For example, you can take turns counting each other's teeth, or pretend to count a favorite doll's or stuffed animal's teeth. Have your child come with you or big brother or sister to an appointment, so they're familiar with our office. And don't forget to bring that favorite stuffed animal or blanket to the appointment for comfort and security.
Call the Children's Dentist in Waco Today
If it's time for your child to see Waco family dentist Dr. Cofer and his team, then contact our office to schedule an appointment.