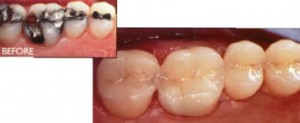 If you have a cavity, it is important to get it repaired as soon as possible, before the damage is allowed to spread. Fillings are a great way to repair and restore your tooth. Cavities are a common dental concern. Even with good brushing and flossing habits, it's still easy to miss a spot, allowing plaque to grow and cause a cavity.
At Premier Family Dental, we offer composite fillings. This is the preferred way to perform fillings because it gives a more pleasing appearance. Composite materials are tooth-colored so no one will be able to tell you've had any dental work. The decayed portion of your tooth will be removed and filled, leaving you with a tooth that is strong and full functional.
Also, composite fillings are preferable to the traditional silver amalgam option, both for appearance and for health concerns. If you're concerned about the risk of mercury from amalgam fillings, then composite fillings are a great option for your smile.
If you have a cavity, a composite filling is a great solution. Your tooth will be healthy once again, and since the composite will be matched to the color of your natural teeth, no one will be able to tell that you had any work done at all. Call us today to schedule an appointment and see how simple it can be to repair your smile.
Premier Family Dental provides quality dental care from our Waco dental office because we truly believe in the power of a beautiful smile. We serve patients from Robinson, Lorena and the Central Texas area. Call us today to schedule your appointment!