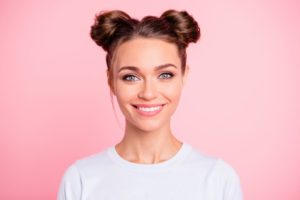 If you have problems with the way your grin looks, you might be considering a smile makeover. However, you probably have some concerns first, like whether your results are going to be worth it. After all, smile makeovers can be expensive and take up to several appointments, so you want to make sure you choose the right cosmetic dentist. Here are 5 questions to ask a dentist before considering them for a smile makeover.
1. What Issues Can Be Corrected with a Smile Makeover?
The first thing to consider when getting a smile makeover is what flaws you want to be corrected. Whether your teeth are chipped, discolored, misaligned, or oddly shaped, your cosmetic dentist should have the skill and technology to fix whatever issues you have with your pearly whites.
2. How Long Will My New Smile Take?
Ask the dentist how long they think treatment will take. This all depends on the issues you outlined in the previous step. Some treatments are simple enough to be completed in one appointment, while some may take weeks or even months.
3. Will My Results Look Legitimate?
Dentists typically do their best to make your smile look natural. This is why teeth that are perfectly paper-white sound nice in theory, but in reality, no one's pearly whites actually look like that. A good cosmetic dentist will be able to make your smile shine as bright as possible without appearing weird or fake.
4. Do You Have a Smile Gallery I Can Look At?
Most dentists have some before-and-after pictures of patients available on their website. You should ask to see cases similar to your own. These examples will give you some idea of what to expect when your own treatment is finished.
5. What Will You Do to Make My Results Last?
Unless your smile makeover lasts, there's no point investing so much time and money in it. That's why it's important to ask the dentist about any possible touch-ups that are needed, and how often they should be done. Procedures like teeth whitening may need to be touched up every six months to a year, yet dental implants can last the rest of your life without needing to be replaced. Again, it all depends on the issues you want corrected.
If you're tired of being unhappy with how your smile looks, consider getting a smile makeover to improve the appearance of your pearly whites. Be sure to ask yourself and any possible dentist these 5 questions before going ahead with any treatment.
About the Author
Dr. Rick Cofer is a graduate of Baylor School of Dentistry. He opened the doors of Premier Family Dental in Waco, TX in 2012, and has been transforming smiles ever since. He provides cosmetic treatment from crowns to porcelain veneers to virtual smile design. To learn more about whether Dr. Cofer could be just the person you need for your smile makeover, schedule a consultation by clicking here or calling (254) 732-0309.