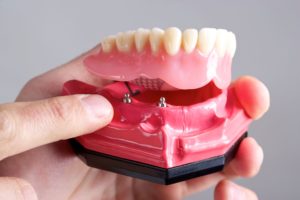 You're going out to eat to celebrate a family member's graduation. You're so proud of them that you take them to their favorite steakhouse. Unfortunately, you can't enjoy steak as much as you used to due to the fact that you're missing several teeth. You can't eat a lot of foods, actually. What if there were a way to fix that? Luckily, there is with permanent dentures. But what exactly are dentures? And what makes them permanent? Read on to learn more.
What Are Dentures?
Dentures are a set of false teeth, usually made of porcelain or acrylic, attached to a gum-colored base. They can be either full – replacing an entire arch of teeth – or partial – replacing only some teeth. Each denture is custom-made to fit a patient's mouth to give them a beautiful full smile and a comfortable, capable bite. Whether you have lost some, most, or all of your teeth, dentures can be a great way to restore your bite and smile.
Are Traditional Dentures Permanent?
Traditional dentures are not designed to be permanent. You are meant to take them out at night and soak them in denture cleaner. Not only do they need this time to get clean, but your gums and jawbone need a chance to rest after the pressure of wearing the dentures all day. The only time a denture can be permanent is when it is held in place with dental implants.
What Are Implant-Retained Dentures?
Implant-retained dentures, or "permanent dentures," are held in place by dental implants. Dental implants are metal posts that are surgically inserted into the jawbone to replace missing teeth. A full arch typically requires 4 to 6 implants to retain dentures, with a partial denture needing fewer.
"Permanent" dentures are not exactly permanent per se; they just cannot be removed by you, only by your dentist. They are not permanent, because they typically need to be replaced every few years. However, the implants underneath are designed to last a lifetime, and rarely need to be replaced.
Am I a Good Candidate for Permanent Dentures?
You would be an excellent candidate for implant-retained dentures if you:
Are missing several teeth or a full arch
Have enough jawbone density to support multiple implants
Are in good overall health with no diseases that compromise your healing ability
Are not currently going through chemotherapy or radiation treatment
Want a healthy and natural-looking replacement for missing teeth
If you do not meet those qualifications, you still might be able to get implant-retained dentures if you take excellent care of your health. For example, a bone graft might be all that's needed for you to be able to support implants.
No matter which type of dentures you receive, you can restore your ability to comfortably smile and eat. If you're tired of living with missing teeth, contact your dentist today about replacing them with dentures.
About the Author
Dr. Rick Cofer attended Baylor School of Dentistry, and he opened Premier Family Dental in 2012. Since then, he has been dedicated to helping patients gain confidence in their smiles. If you would like to replace your missing teeth with dentures, contact him at (254)-732-0309.