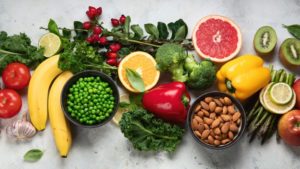 Many people aren't aware that the foods they regularly eat can impact the health of their teeth and gums. Since March is National Nutrition Month, there's no better time to learn some great dieting habits that can improve your oral and overall wellbeing. That way, you can rest assured that you're doing everything you can to preserve your smile as well as your body. Read on for four nutritional tips that are great for your physical health as well as your teeth and gums.
Fresh Fruits & Vegetables
It's no surprise that a first step to make your daily diet more healthy and nutritious is to increase your intake of fresh fruits and vegetables. This is also a fantastic tip to help improve the health of your teeth and gums! Leafy greens and fibrous fresh product contain vital vitamins and minerals that help ward off harmful oral bacteria and scrub away food debris and plaque. Because these foods are also low in calories, they're a great option for your physical health as well.
Avoid Sugars & Carbohydrates
Harmful oral bacteria love to feed off of food debris that contains sugars and carbohydrates. These become trapped in your plaque with the bacteria, and as they feed off of these substances, they create waste in the form of enamel-eroding acid and toxins that cause inflammation and infection. If you have deep grooves and pits in the chewing surface of your teeth, you can be especially susceptible to bacteria buildup, because these substances can become easily trapped. If you do snack on foods such as potato chips or cookies, be sure to thoroughly brush and floss afterward to remove any collected sugars and carbohydrates in your mouth.
Drink Plenty of Water
Although it can be tempting to reach for tastier beverages like sports drinks and soda, it's not the best choice for your physical and oral health. Whenever possible, substitute water to help quench your thirst. Water helps rinse away food debris leftover in your mouth and bacteria and reducing your risk of developing oral health problems like cavities because it doesn't contain sugar.
Try Taking Vitamin Supplements
Many of the same vitamins and minerals used to strengthen your bones and boost your immune system also help keep your teeth and gums healthy. If you're unsure of whether or not you're getting the proper amount of these substances each day, try introducing vitamin supplements into your daily routine. Some of the best ones for your teeth, gums, and entire body include:
Vitamin C
Vitamin D
Calcium
Iron
This March, you can dedicate yourself to optimizing your oral and overall health by implementing these four tips into your daily diet. With better nutrition, you'll be able to protect your body as well as your mouth from commonly occurring problems such as gum disease and cavities.
About the Author
Dr. Rick Cofer is passionate about providing his patients with the highest quality of dental care available. By conducting thorough checkups and cleanings every six months, he's able to keep his patients from developing severe oral health issues and preserve their smile for years to come. For questions or to schedule a routine appointment, visit Premier Family Dental's website or call 254-732-0309.