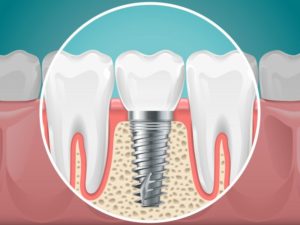 In terms of replacing missing teeth, dental implants are often considered the gold standard. After all, they're the only option that recreates the entire structure of the lost tooth, from the root up through the crown. But just how long do dental implants last? Truthfully, dental implant lifespan varies from patient to patient based on multiple factors, including your general health and your dedication to oral hygiene. Continue reading to learn more about how long you can expect your dental implants to last.
Anatomy of a Dental Implant
To fully understand dental implant lifespan, it helps to know the different parts of a dental implant:
Implant: A titanium post that is surgically inserted into the jawbone to replicate the root of one or more lost teeth.
Abutment: A metal connector piece that secures the crown onto the implant.
Crown: A ceramic tooth that is attached to the abutment and gives the tooth a natural appearance.
Generally, the crown and abutment are subjected to greater wear and tear through chewing than the implant itself.
So, How Long Do Dental Implants Last?
As long as you brush and floss daily and visit your dentist for checkups and cleanings at least twice a year, the implant itself could potentially last for 30 years or more. In some cases, it could even last for the rest of your life. The crown, however, must be replaced every 10 to 15 years on average since it becomes worn down as time goes on.
Another factor that affects the longevity of your dental implant is its location in your mouth. Implants that are placed toward the back of the mouth receive more pressure from chewing, so they're more likely to fail than implants that have replaced front teeth.
How to Make Your Dental Implants Last
The most common reason why dental implants fail prematurely is gum disease. When bacteria weaken the gum tissue and jawbone, the implant doesn't have a strong enough foundation to stay in place, causing it to ultimately fail. To minimize your risk of gum disease, be sure to brush, floss, and attend dental checkups and cleanings regularly.
You should also protect your implant-retained teeth from damage whenever you can. If you grind your teeth, ask your dentist about a custom-made nightguard to wear to bed. Similarly, invest in a mouthguard if you play contact sports.
While dental implant lifespan is different for everyone, you can expect your new teeth to last for years and years to come if you take good care of them. If you're ready to replace your missing teeth, schedule a consultation with your dentist to find out if dental implants are right for you.
About the Author
At Premier Family Dental, Dr. Rick Cofer has been providing comprehensive dental care to the Waco, TX community for almost a decade. After earning his Doctor of Dental Surgery degree from the Baylor School of Dentistry, he underwent advanced dental implant training. He can perform every step of the dental implant process under one roof. To learn more about the benefits of dental implants, contact Dr. Cofer's office at (254) 732-0309.