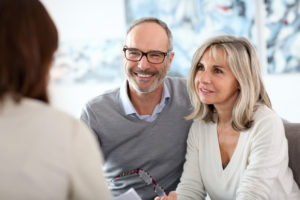 Keeping your smile whole (i.e. avoiding tooth loss) is the best thing you can do to preserve your overall health as you get older. Missing teeth contribute to a number of adverse effects, including everything from your nutrition to your self-confidence and more. Avoiding tooth loss requires keeping yourself safe from its #1 cause: gum disease. Keep reading to learn more about this condition and how you can keep yourself safe in the years to come.
The Health Risk You May Not Be Aware of
People of all ages can develop gum disease, but it is far more common in older patients than younger ones. In fact, estimates say over half of adults 35 and up have some level of gum disease. If it's not treated promptly, gum disease gradually eats away at the sturdy foundation your teeth need to stay healthy and stable. Over time, teeth will eventually get loose and fall out. Patients with the latest stages of gum disease experience complete tooth loss.
The warning signs of gum disease look like this:
Red, bleeding, or inflamed gums

Persistent bad breath, even soon after brushing

Gum recession

Tooth sensitivity

Bad taste in the mouth
If you are experiencing any of these symptoms, do not hesitate to get in touch with your dentist for professional help.  
Treatment for Gum Disease
The appropriate treatment for gum disease depends on the extent of the infection. In the beginning stages, gum disease is gingivitis and may be reversible with improved hygiene at home and a couple extra visits to your dentist's office. After it has progressed, scaling and root planing (SRP) may be required to remove harmful bacteria and prevent the recurrence of infection. Surgical treatment is often the last step for serious cases of gum disease. Gum grafting after treatment can help to replace tissue that has been lost due to infection.
Preventing Gum Disease Is Easy
Fortunately, there is good news — and it's that it's pretty simple to protect your smile against gum disease and related tooth loss. To keep your teeth and gums clean, make sure to brush and floss your teeth as recommended every day. Visit your dentist at least twice-annually for a checkup and cleaning. And, if you smoke or use tobacco, consider kicking that habit sooner rather than later. Tobacco users are at a much higher risk of developing gum disease and experiencing tooth loss than people who do not smoke.
There's a brief primer on gum disease and how fighting it can help to keep your smile healthy as you age. Questions about any of it? Don't hesitate to get in touch with your dentist in Waco to discuss more!
Meet the Dentist
Dr. Rick Cofer is a general dentist providing superior dental care at Premier Dental Care. He dedicates significant time annually to continuing education in order to keep bringing the superior standard of care he is known for to his patients. To learn more about gum disease prevention or treatment, do not hesitate to call Dr. Cofer at 254-732-0309.