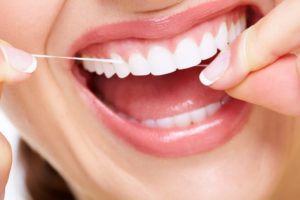 September is National Better Breakfast Month, National Chicken Month, and National Hispanic Heritage Month. But did you know that it's also National Gum Care Month? It's the perfect time to give a little extra attention to that precious pink tissue that supports your smile. To encourage everyone to take excellent care of their gums, we're providing some friendly reminders on how you can fight gum disease in Waco.
Stick to Mouth-Friendly Habits
There are lots of factors that can influence gum health, including age and genetics. However, the single biggest contributor to a healthy mouth is a routine that includes lots of smile-friendly habits. By keeping a clean mouth, you can prevent bacteria from sneaking into your gums and causing gingivitis (the first stage of gum disease). Be sure you:
Brush your teeth twice a day. Many people forget to brush the backs of their teeth or the area along the gum line, so be extra diligent about cleaning these areas.
Floss daily. Floss can remove tiny food particles and plaque that accumulate along the gum line.
Use an antibacterial mouth rinse. This is especially important for folks who are genetically predisposed to gum disease.
Make an effort to quit smoking. Tobacco use is all-around bad for your oral health and has a strong correlation with gum disease.
Eat a healthy diet. Some foods and drinks, such as apples, onions, and green tea, can help clean your gums and fight the inflammation that is associated with gum disease.
Keep an Eye on Your Gums
While you're doing your best to protect your gum health, you should still be aware of anything that indicates that this tissue isn't in its best shape. Some signs that you should visit your dentist in Waco to talk about your periodontal health include:
Your gums are swollen, red, or tender.
Your teeth look longer than they used to.
You're struggling with persistent bad breath.
Your teeth are unusually sensitive.
Visit Your Dentist
Even if you think your gums are doing fine, you should still see your dentist for a routine checkup at least twice a year. They'll look for any signs of inflammation or gum recession and, if they notice a problem, bring it to your attention and suggest a treatment to get your oral health back on track.
Sometimes, beating gum disease is as simple as making a few adjustments to your daily oral hygiene routine. In other cases, periodontal therapy in Waco (such as a course of antibiotics or a deep cleaning of the mouth) may be necessary.
Your gums are an important part of your smile! This September, give them a little extra attention so you can continue to enjoy a fresh and healthy mouth.
About the Author
Dr. Rick Cofer is a Texas native who enjoys caring for the oral health needs of familes in Waco. He helps his patients to fight gum disease through preventive care, deep cleaning, and other treatments. If you are concerned about the state of your gums, contact our office at 254-732-0309 to schedule a checkup.