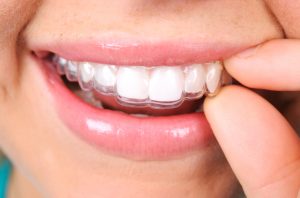 Unfortunately, it's a fact that people pass judgments off their first impression of you. How you feel about your smile matters, but it also matters to those interacting with you and the level of confidence you have interacted with them as well. An unsightly smile can cause you to feel self-conscious and other people can pick up when someone has low self-esteem. Flawed teeth can stop you from pursuing your dreams, hinder job opportunities, and leave you in a rut. Luckily, Premier Family Dental has a practically invisible way of correcting your smile: CleaCorrect clear braces in Waco. Dr. Cofer can help you straighten your smile without using potentially harmful, unattractive metal brackets and wires.
Are you looking for a disguised comprehensive orthodontic treatment?
Have you been avoiding fixing your smile because you don't want to damper your matured, polished appearance? Finally, there's an orthodontic treatment that can straighten your teeth with clear plastic aligners! Dr. Cofer enjoys providing his patients with treatment choices that are simple and effective. For that reason, he works closely with ClearCorrect lab professionals to create custom aligners just for you. These unseen braces will be planned to uniquely correct your smile. Our patients, new and returning, can correct various smile imperfections like these:
Crowded teeth
Wide gaps
Crossbites
Overbites
Crooked teeth
How can ClearCorrect in Waco offer more to patients than traditional braces?
ClearCorrect is an orthodontic system that's superior to traditional braces in so many ways. Instead of painfully tightening your wires several times during your treatment, our clear aligning trays will gently shift your teeth into place. This is just one of many benefits of this straightening treatment.
Benefits of ClearCorrect
You experience an immediate boost in confidence knowing that your orthodontic treatment is practically invisible!
You experience comfortable straightening from custom-fit aligners rather than sharp metal brackets and wires.
You can still enjoy your favorite foods because of the versatility ClearCorrect offers by being removable.
You can keep your dental routine simple by removing your aligners to brush and floss your natural teeth.
Negative Aspects of Traditional Braces
Embarrassing orthodontic gear highlighted with elastics that stand out against your natural teeth.
Uncomfortable forced shifts in teeth caused by frequent tightening appointments.
Change in your diet to avoid damage, avoiding hard or sticky foods.
A more complicated dental routine that requires additional cleaning equipment.
Contact Premier Family Dental for More Information
ClearCorrect sounds like a great option for almost any patient, right? There are very few cases in which this straightening treatment is not right for them based on a patient's needs and lifestyle. The only way to truly discover if ClearCorrect is right for you is by scheduling a consultation to meet with Dr. Cofer. Once we discover which straightening treatment is better for you, we'll be happy to help bring out your best smile!