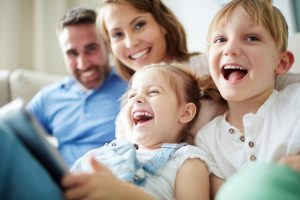 You can get pretty much everything you need off of the internet these days. Previously, you were only able to get fun things like movies and pizza, but now it you can get much more. A few key strokes and a battalion of people getting their master's degree will instantly be at your door with groceries, toiletries, and probably a hot towel. One thing, however, that you can't get through the internet is dental care. You still need to venture out into the world to help take care of you and your family's teeth. The question is, how should you choose a family dentist in Waco? Dr. Rick Cofer has 5 things to consider that will make that question easy to answer.
1. What Type of Patients Do They Serve?
This is a very important question if you are looking for a dental practice for your whole family. Does the practice have experience with children? Can they help older patients who need their teeth replaced? Premier Family Dental can answer yes to both questions. Dr. Cofer and his team have helped patients of all ages and are able to effectively treat the whole family under one roof.
2. What Services Do They Offer?
You and your family's teeth may have many different needs as time goes by. You want to find a practice that will be able to treat you no matter the situation. This is why Dr. Cofer offers a variety of preventive, restorative, and cosmetic procedures. Whether you need a simple check-up, want to have a tooth fixed, or simply want your smile to look its finest, Premier Family Dental has you covered. You can even completely replace your missing teeth and have dental implants placed and restored all under one roof, unlike most other dental practices.
3. The Dentist and their Team
Of course you want to consider the training and experience of the person running the practice. Dr. Cofer attended McMurray University before getting his doctoral degree from the Baylor School of Dentistry. He has been associated with Texas Advanced Dental Seminars and Seattle Study Club since 2011, and has been operating Premier Family Dental since 2012.
You also want to consider the quality of the team you will be working with. Everyone from Jessica the Office Coordinator to Maria the Dental Assistant are highly trained and experienced in all facets of dentistry and customer service. They will insure that you will receive the best care possible from the time you make an appointment until you walk out the office doors with an improved smile.
4. Location
It doesn't matter who your dentist in Waco is if you can't get to them, right? Our office is centrally located right off of W Loop 340 and Highway 6. No matter where you are coming from in Waco, we are right where you need us to be.
5. Reviews
One of the best ways to evaluate a dental practice is to see what their current patients have to say. You'll see that time and time again, patients have taken time out of their busy schedules to give Dr. Cofer and his team 5 out of 5 stars due to their top-notch care and welcoming atmosphere. The only thing you'll see more than stars are exclamation points. There's nothing more telling than a group of happy patients.
Want To Know More?
If you want to know more about why you should bring your smile to Premier Family Dental, please give us a call today. We're happy to make your search for a dental practice easy, so come see us and we can make your smile brighter than ever.