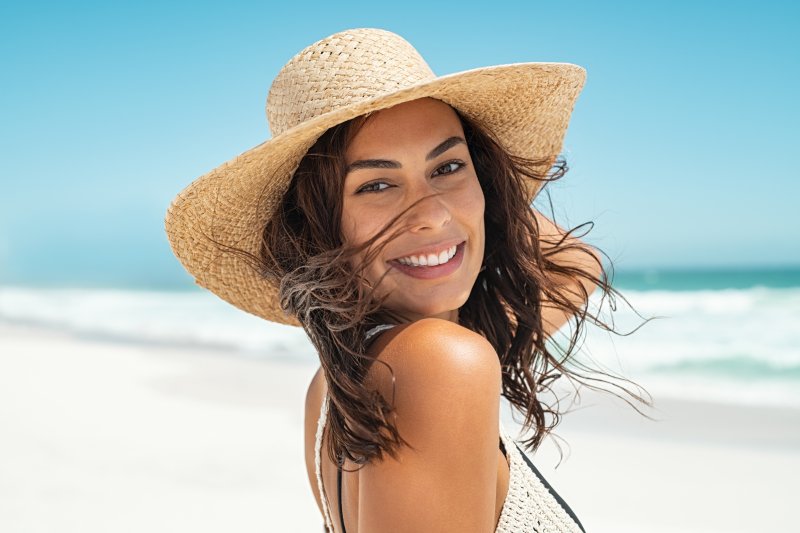 It's summertime, and you and your family are preparing for a beautiful week-long getaway to an island in the Caribbean. While packing, you suddenly ask yourself if there is anything you need to ensure your smile remains healthy, intact, and feeling its best while you're away. After all, you don't want to miss lounging on the beach because of a nagging toothache that won't go away. To help you prepare, a family dentist in Waco shares 4 tips you can use to make sure you and your smile remain in optimal shape while on vacation.
Drink Plenty of Water
Staying hydrated is not only key to keeping your energy up, but it is also beneficial in encouraging your salivary glands to increase production. Why is this important? Because your saliva can help to flush out any food particles or harmful bacteria that try to adhere to your teeth. When you become dehydrated by drinking too much alcohol or soda or engaging in strenuous activity, you can develop dry mouth. When this happens, bacterial growth will occur within your mouth because there is no saliva to wash it away. However, if you want to avoid potential tooth decay, make sure you're drinking enough water.
Avoid Keeping Your Toothbrush in a Closed Container
If you commit to maintaining your regular dental hygiene routine on vacation, your toothbrush will spend two minutes in the morning and two minutes at night in your mouth. It must remain clean to prevent bad bacteria from entering your oral cavity. To do this, try to keep it as dry as possible and never keep it closed up in a container. Bacteria love dark, damp locations, so a wet, enclosed toothbrush will likely wreak havoc on your smile. When arriving at your hotel, immediately remove your toothbrush and allow it to stand upright to air dry.
Limit Your Sugary Snacks and Beverages
You're on vacation, and the last thing you want to do is adhere to consuming all the healthy foods and beverages you do at home. While it is okay to splurge now and then, make sure to limit how much sugar and starch you are consuming, as these can increase your risk for tooth decay, cavities, and gum disease. By choosing healthier options (for the majority of your time away), you can avoid an appointment with your dentist in Waco and the possibility of restorative work to fill a cavity.
Leave the Ice in Your Glass
We know it's hot outside. While you may be tempted to chomp down on the ice in your glass, let it melt and enjoy the water it provides instead. Why? Because chewing on ice can lead to potential cracks, chips, or fractures in your teeth, resulting in a dental emergency and the need for immediate care. Want to stay out of the dentist's chair on your vacation? Either let it continue to cool your drink or forgo it altogether and opt for a nice glass of water sans ice.
Remember, your smile can negatively impact your overall health if you're not careful, so make the right decisions and adhere to these helpful tips so you and your family can enjoy a wonderful vacation and avoid unnecessary trips to the dentist in Waco upon your return.
About the Author
Dr. Rick Cofer opened Premier Family Dental in February 2012. He attended Baylor School of Dentistry, and for more than 5 years, he has been associated with Texas Advanced Dental Seminars and Seattle Study Club. Dr. Cofer and his team are eager to help you maintain a healthy, beautiful smile year-round, which is why they provide patients with educational resources and helpful tips to keep teeth and gums looking and feeling their best whether at home or on vacation. If you are preparing to take a family trip out of town and would benefit from some valuable dental hygiene insight, contact us at (254) 732-0309.