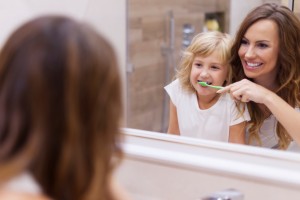 We're well into August, and children across Waco are getting ready to go back to school on August 22. One nonprofit is helping a few local children prepare for the new school year with fresh haircuts and school supplies. There's one other thing to check off the back-to-school list — a checkup and cleaning with Dr. Rick Cofer, the dentist in Waco TX! Schedule one for your child at Premier Family Dental and help her start the school year off right.
Preventive Care Prepares Your Child for School
Summer gives your child a break in the routine, as well as access to more sugary snacks than usual. (Popsicles and ice cream, anyone?) That combination leaves her teeth vulnerable to cavities — let the children's dentist in Waco check in to make sure your child starts school off with a healthy smile.
During the back-to-school visit, our dental hygienists will thoroughly remove the plaque and tartar buildup that causes tooth decay. We'll also take x-rays to catch potential problems lurking beneath the surface. Dr. Cofer will examine your little one's teeth, gums, and x-rays for cavities. If small spots of decay are present, a quick filling can be performed so your child doesn't have to spend any time dreading a follow-up appointment. Instead, she'll leave her back-to-school visit to the dentist knowing she's starting the new school year with healthy, beautiful teeth.
Children Need Dental Sealants and Fluoride Treatments
Little smiles can benefit from extra protection against tooth decay. After the checkup and cleaning, we can apply dental sealants and fluoride treatments to protect and strengthen tooth enamel. Both are quick, painless applications that can provide long-lasting protection against cavities.
Dental sealants are thin coverings painted directly onto the back molars. Once the sealants are hardened under a special light, they shield the nooks and crannies that cover the molars from the food particles and bacteria that cause decay.
While patients of all ages benefit from fluoride, cavity-prone children should receive regular fluoride treatments. The mineral strengthens tooth enamel against sugars, acids, and bacteria that cause cavities. A back-to-school fluoride treatment will protect your little one's smile from developing spots of decay all year long.
Dr. Cofer and Team Take A Friendly Approach
Many children may feel nervous visiting the dentist, so we take a special approach with our small patients. Young minds are busy developing their opinions on everything — including how they feel about dental care. The team at Premier Family Dental knows positive experiences at the dentist from a young age can help set children on the path to a lifetime of good dental care, so that's exactly what we strive for.
Schedule Your Little One's Appointment Today
Help your child start the new school year off on the right foot with a visit to the family dentist in Waco TX. During a back-to-school appointment, we'll check for cavities, provide gentle restorative care as needed, and help to protect her teeth from tooth decay this school year, and for many more to come. Request your child's appointment today!