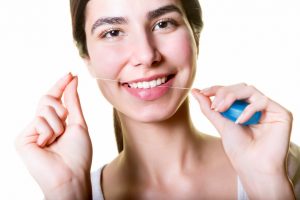 You've always had a bit of an eye when it comes to interior design. One thing you like to use is a splash of color, which is when you have a bright color in one spot of a room that is relatively neutral. This is a great and easy way to add energy to a room. However, the last place you would want to see a splash of color is your bathroom, namely your sink. Whenever you brush and floss your teeth, they inevitably begin to bleed, which leads to a lot of unwanted pink in the sink. Is there any way to stop this? Your dentist in Waco, TX lets you know what might be happening, as well as how to prevent it.
Why Are My Gums Bleeding?
Your gums serve an important role in your mouth. Not only do they protect the sensitive enamel around the roots of your teeth, but they also bring a nourishing blood supply to the area. One reason that your gums might be bleeding is that you are using too much pressure whenever you brush or floss. Your gums are very soft tissue, so too much force can start to break them down and make them bleed more easily. Try to be gentler next time you clean your teeth, especially when flossing. It shouldn't require too much physical effort to clean your teeth. The gums can also be affected by the buildup of plaque and bacteria, just like your teeth. This can lead to the tissue becoming infected and being more sensitive, which can cause frequent bleeding. This may be a sign of gum disease. Some other signs are:
Red, swollen, or puffy gums
Persistent bad breath
Receding gums
Bumps along the gum line
At this point you should be sure to call us at Premier Family Dental.
What We Can Do About It
Dr. Cofer may recommend that you use a soft bristle toothbrush or a different type of floss to help stop your gums from bleeding. If you are showing signs of gum disease, a professional cleaning may be the best way to address it. More severe gum disease may require a deep cleaning specifically along the gum line in a procedure called scaling. The best thing you can do to prevent gum disease is to mindfully brush and floss along the gum line every day. Many people miss it during their normal routine.
Come See Us!
If you are concerned with your bleeding gums and can't seem to prevent it, please make an appointment with us today. We know we can find a solution so you can keep your gums healthy.