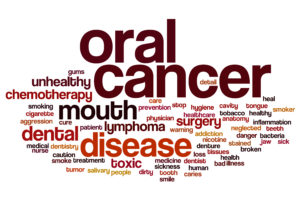 This year, over 40,000 Americans will be diagnosed with oral cancer. Sadly, over a quarter of that population will succumb to the disease, but dentists around the country are determined to make a difference in those numbers. Therefore, they have joined together to support National Oral Cancer Awareness Month. Your dentist in Waco is doing his part by weighing in on the importance of oral cancer screenings. As you continue, you'll learn more about the preventive methods at your disposal.
What is Oral Cancer?
Oral cancer is the result of the uncontrollable growth of mutated cells in your mouth and throat. The following explains how it can manifest in each:
Mouth – In the mouth, the disease can spread throughout the lips, cheek lining, teeth, gums, the front two-thirds of the tongue and the roof of the mouth.
Throat – When in the throat, it can be found in the tonsils and at the base of the tongue (considered as part of the throat).
Possible Signs of Oral Cancer
If you notice any of the following symptoms, you should contact your dentist:
A sore or irritated throat that doesn't seem to get any better
Red or white patches on the soft tissues in the mouth
Pain, tenderness or numbness in the mouth or lips
A lump, thickening, rough spot, crust or small eroded area
Difficulty chewing, swallowing, speaking or moving your tongue or jaw
A change in the way your teeth fit together when you close your mouth
One of the best counter mechanisms to combat oral cancer is early detection, because it leaves you with more treatment options and increases your chances of survival.
Why Oral Cancer Screenings are So Important
As mentioned above, early detection is one of the best ways to fight oral cancer. It doesn't require any special appointment, as it's done doing your semi-annual visit for a cleaning and checkup. Part of your examination will be for your local professional to perform a full cancer screening.
The cleaning aspect of the visit plays a key role in preventing the disease from rising as well. This is evident in recent studies where researchers found a connection between the over-growth of bacteria in the mouth and your susceptibility to oral cancer. Thus, by clearing away stubborn plaque and tartar, your dentist provides you with a clean slate.
By taking a proactive approach to your oral health and visiting your dentist every six months for screenings, you'll be able to feel confident that you'll be protected and well for years to come. To start the process, simply reach out to your family dentist in Waco today!
About the Author
A native of Irving, Texas, Dr. Rick Cofer earned his Doctor of Dental Surgery degree from Baylor College of Dentistry. To continue to refine his skills and knowledge of the latest advances in dental technologies and techniques, he remains affiliated with Texas Advanced Dental Seminars and Seattle Study Club. Dr. Cofer provides patients with peace-of-mind at Premiere Family Dental and can be reached for more information through his website.